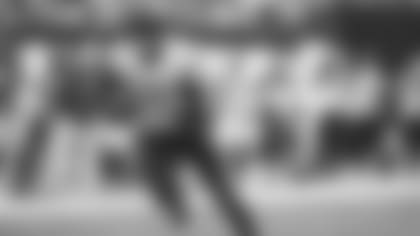 The Jets are home for a 1 p.m. kickoff against Chicago in Week 12. Here are ways to watch and listen on gameday.
Table inside Article

| Time | Program | Where to Watch |
| --- | --- | --- |
| 7:30 am | Jets Gameday with Robert Saleh | CBS 2 New York |
| 11:00 am | Pregame Central presented by Bud Lite | nyjets.com | Official Jets App | Facebook | YouTube |
| 12:00 pm | Jets Pre Game | SNY |
Watch the Game on TV
FOX | 1:00 pm (Broadcast Map)
Broadcasters: Joe Davis (Play-by-Play), Daryl Johnston (Analyst) and Pam Oliver (Sideline)
Listen to the Game
To listen to the radio broadcast in market in English or Spanish download the Official Jets App.
New York Metro Area: WEPN-FM, ESPN New York 98.7 and online.
Broadcasters: Bob Wischusen (Play-by-Play) and Marty Lyons (Analyst).
Pre-and Postgame: Anthony Becht, Gregg Buttle and Dan Graca
Listen to the game on SiriusXM Ch. 229.
Fans can also listen to live game audio at home or on the go with NFL+. Subscribe here.
Listen to the broadcast in Espanol on the Official Jets App locally.
Broadcasters: Clemson Smith-Muñiz (Play-by-Play) and Roberto Abramowitz (Analyst).
Table inside Article

| Time | Program | Where to Watch |
| --- | --- | --- |
| Immediately After the Game | Jets Post Game | SNY |
| 60 Minutes After the Game | Jets Overtime presented by SiriusXM | nyjets.com | Official Jets App | Facebook | YouTube |
| 11:35 pm | Jets Late Night presented by Kean University | CBS 2 New York |