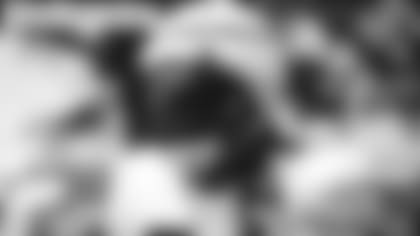 The Jets began the summer with uncertainty at the tackle positions and veteran Billy Turner has been steady rotating between right and left tackle with second-year T Max Mitchell throughout camp.
"Being in this league for 10 years, I'm not thinking about pushing another person," Turner said. "I'm thinking about the things that I need to do to get better. And focusing on those things, it is naturally going to push the person to my right and left in front of me behind me etc., to get better."
Turner signed with the Jets in May after starting eight games for the Broncos last season. He played the prior three seasons with Green Bay. The Jets' offensive coordinator Nathaniel Hackett was Turner's head coach in Denver and offensive coordinator with the Packers.
HC Robert Saleh said the plan is to start the "best five" offensive linemen in Week 1 against the Buffalo Bills. With T Duane Brown recovering from an offseason shoulder operation and T Mekhi Becton playing with the second team and getting more comfortable on his surgically repaired right knee, Turner and Mitchell have manned both sides of the line and taken the bulk of the tackle reps throughout OTAs, minicamp and training camp.
"Both showing a lot of good things," Saleh said of Mitchell and Turner. "You look at Billy and he's got all the veteran experience and savviness. And then you look at Max and he's got, not that Billy's not athletic or anything, but he's just younger and he's a little bit bigger of a body, but that competition is going well."
Turner started 43 games for the Packers and played only right guard and right tackle with Denver last season when Turner started 7 games and appeared in 8. Turner sat out the Jets first preseason game but admitted swapping between the right and left has been challenging.
"From your feet to your hips to your hands to your head, everything is completely different," Turner said. "Everything is the complete opposite. So, all in all, the game is different from right to left. It's the same technique. You just got to figure out how to switch things around in your brain."
With the Packers, Turner overlapped with Jets QB Aaron Rodgers, QB Tim Boyle and WR Allen Lazard. And despite the competition, Turner has shared his familiarity with Hackett's scheme and with Rodgers to help bring Mitchell, Becton and other O-linemen up to speed. The Packers went 39-9 in the regular season during Turner's time in Green Bay and reached two NFC championship games.
"Hackett is a great person and one of my great friends on and off the field," Turner said. "He will always be someone in my life. The scheme is very similar, if not the same, but different techniques are put into play with different offensive line coaches in different position coaches."
See photos of the Jets during Thursday's training camp practice in South Carolina.