May 10 is a day you're going to want to mark on your calendar. As the finale for this year's NFL Draft, nine new additions could join the Green & White that afternoon, any of whom could turn out to be a cornerstone of the franchise down the road.
But while the entire Jets organization is looking forward to that day, the draft is only part of the reason. The other part? Getting one step closer to finding a cure for lupus.
Jets owner Woody Johnson and guard Willie Colon will be representing the Green & White in leading the annual New Jersey Walk with Us to Cure Lupus event, presented by the Alliance for Lupus Research, that Saturday morning at MetLife Stadium.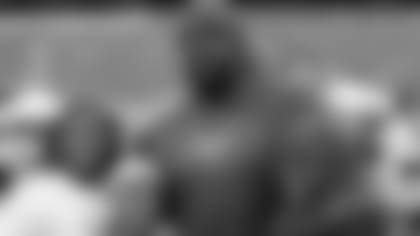 Lupus affects 1.5 million Americans, including Colon's mother. There is no known cause or cure for the autoimmune disease.
"It hits home for me because I see what she goes through every day battling the disease," said Colon, an honorary NJ walk co-chair. "People with lupus have flareups, so being stressed or not dieting right or just going through day-to-day things that may be easy for us to deal with, they suffer from. We have a common cold, we take Advil and go about our way. If my mom goes through a little sniffles, she's really hurting from it."
Colon co-hosted this event last year and recalls seeing the smiling faces of countless kids as his favorite moment.
"It's a good family day with people coming together and camaraderie," he said. "Everyone who comes gets T-shirts. My mom will be there and we'll have our team shirts on. It's good to see smiles on people's faces who wouldn't necessarily have one in a different setting. Any time you can uplift someone's spirit and give them a chance to just feel free for a day, it's good."
Between now and then, Colon will continue preparing for the 2014 season as he and many of his teammates have been doing for the past week-plus at the Atlantic Health Jets Training Center in Florham Park, NJ.
"I'm optimistic just from the standpoint of how we finished on a strong note last season," Colon said, referencing our 3-1 record to close out 2013. "Obviously we lost Cro [Antonio Cromartie], but for the most part we're pretty much intact on defense. And on offense, we're having everybody except Austin [Howard] coming back, but we're getting another guy [Breno Giacomini] who's just as skilled and just as tough as Austin was."
Giacomini's not the only new teammate that Colon's been working out with.
"Chris Johnson, Michael Vick and Eric Decker, those are guys we've played against knowing about them," he said. "To have them in the house and to watch them work extremely hard on a daily basis, I'm happy they're on our side now."