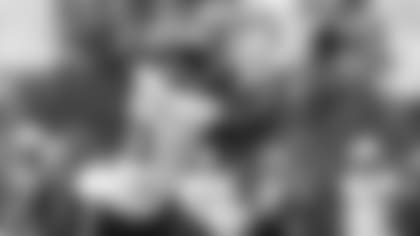 When Jason Brownlee got a call from a Jets staffer asking him to come to the facility Monday, he feared the worst.
"I didn't call anybody at first because I was like 'oh boy, what are they calling me for?' because they had been making cuts all morning," Brownlee said. "I was nervous."
However, the young wideout had nothing to worry about. A day before the NFL's dreaded cutdown, Brownlee found out he made the Jets' 53-man roster four months after not being selected in April's 2023 NFL Draft.
"I got a phone call and came up here and talked to them and they broke the news," Brownlee said. "It was a real fun experience. I was happy and I am grateful to have this opportunity and am ready to make the most of it."
Brownlee impressed in camp with several acrobatic catches. Most notably, Brownlee, covered tightly by CB Craig James during a team period early in August, reached above his head, and made a spectacular one-handed grab along sideline.
Brownlee's success in practice carried into the preseason. He led the Jets with 102 yards receiving and 10 receptions in four games. In addition, in the final preseason game against the Giants, Brownlee caught two passes for 25 yards and converted a two-pointer. In three college seasons, Brownlee had 135 receptions for 2,144 yards, 21 touchdowns and averaged 15.9 yards per catch.
"I've really enjoyed getting to know him the last few months," WR Garrett Wilson said. "JB (Jason Brownlee) is a guy that can go up and get the ball – he is physical, and I love him."
The love continued for Brownlee when he relayed the roster news to his mother and left her speechless.
"She was at work and so she was about to start crying on the phone," he said. "I just told her, 'Chill and do your job. I just wanted to call you and let you know you made the team.' She was super happy."
Brownlee joined fellow UDFA wideout Xavier Gipson as the Jets' only undrafted rookies to make the roster. They pushed each other throughout training camp and are looking forward to competing in the fall.
"It feels good. We came in together and played at the NFLPA game together, so we already had a bond," Brownlee said. "Just to make the team with him and knowing all the hard work we put in every day here and staying on each other and holding each other accountable even in the film room, it feels good to know I got my dog with me."
See the best images of the Jets on the field Tuesday afternoon to kick off the final preseason week of 2023.