Jets fullback Tommy Bohanon has experienced his fair share of monumental days over the past year and a half:
April 27, 2013 — Being drafted by the Jets in the seventh round
Aug. 31, 2013 — Making the 53-man roster
Sept. 8, 2013 — Playing in his first regular-season NFL game
All memorable moments, but perhaps no day that's occurred thus far in Bohanon's 23 years on earth will trump this Saturday:
July 12, 2014 — Getting married
"It's an exciting time in my life, for sure," he said, showing as much emotion as you could possibly expect in a conversation between two 23-year-old men. "The wedding's going to be pretty big, about 200 people, and it'll be in my hometown of Fort Myers, Florida."
For Bohanon, the most difficult period of time leading up to the wedding occurred during OTAs and minicamps "because you wanted to be there for all the planning and everything, but at the same time I still had a job to do and had to stay focused on football."
Now at a part of the offseason that is as "off" as it gets for an NFL player, he and his fiancée, Katie, can truly relax and enjoy these next few days before officially becoming husband and wife.
Then upon returning from their honeymoon in Mexico, it'll be back to the grind for Mr. Bohanon as training camp gets under way.
After battling it out for a roster spot with the veteran and incumbent Lex Hilliard last year, Bohanon now takes on that role of fighting to keep his position on the squad. Listed as the only experienced fullback on our current 90-man roster (Chad Young is an undrafted rookie free agent), it might appear safe to pencil him in on your list of 53. But that's "not at all" his mentality.
"I have to earn my job like anybody else on the team," he said. "I have to go in and do my best every day, because it's still a competition no matter what."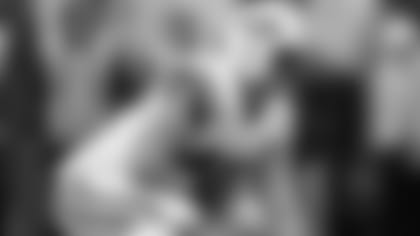 His first year in the league, Bohanon rushed for 62 yards on 17 carries while adding an additional 69 yards on 11 receptions out of the backfield. Not bad for a rookie fullback, but also not the numbers he's looking at when evaluating year one.
"The thing I care about is how our rushing offense ranks," he said. "The fact that we were sixth in the NFL [with 134.9 rushing yards/game] makes last season a big success for me personally. I take a lot of pride in opening up holes and being able to give the running backs all the room that they need."
With the addition of Chris Johnson to the backfield and with a year of NFL experience under his belt, Bohanon's prepared for and expecting big things in 2014.
"I think I definitely have progressed in the aspect of knowing the ins and outs of the playbook," he said. "Before, I was learning a new system and all the terminology. Now it's just getting that much more advanced in the system and understanding *everything *about it as opposed to just knowing what I needed to do."
Bohanon will get to demonstrate his improvements in two weeks, but before he does, he'll be saying "I do."