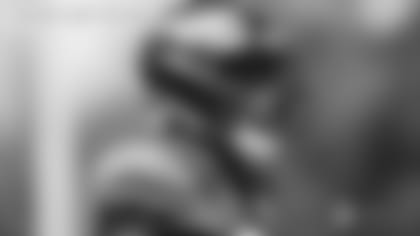 Safety Adrian Amos, a late addition to the Jets training camp roster, signed with the Jets in June because he fit in with the Green & White's aggressive defense, and thanks in part, to a recruiting pitch from four-time MVP QB Aaron Rodgers.
"It has been a long offseason of training and working out and trying to find the best fit for me," Amos said. "And after coming in and talking to some coaches and familiar faces, it worked out this was the best place for me to spend this year and try and go win it all."
Amos added: "[Rodgers] actually called me. We stay in touch and text here and there. And of course, it boosts your chances of signing when you know he is there, and you know somebody that can play ball. And then the situation worked out because I saw what it was like, and it was all good things and all good vibes."
Last season with the Packers, Amos set a career-high with 102 tackles – 11th-most among safeties. He has started every regular season game since 2018. Since the beginning of training camp, Amos has played primarily with the second-team defense while building chemistry with Tony Adams, Ashtyn Davis and Jordan Whitehead.
"There are a lot of fast guys and a dominant front," Amos said. "They did a lot last year. Good safeties, good corners and a lot of guys that can run and get after it and get to the ball."
In addition, just over a month into his stint with the Jets, Amos has quickly gotten comfortable in defensive coordinator Jeff Ulbrich's scheme.
"It is a big adjustment coming in," Amos said. "A couple of days ago was the first time seeing everything and trying to learn it and pick it up. But it is picking up fast. It is night and day between today and three days ago. I am getting better every day."
One place Amos did not need experience was going against Rodgers. Amos played his first four NFL seasons with the Chicago Bears and battled Rodgers twice a year before he played the next four seasons with the Packers. Even with eight years experience going against Rodgers, Amos continued to learn from him during camp.
"He is going to challenge you," Amos said. "He is going to challenge you to your keys and your rules because he can make every throw. He can throw certain things blindly, so you have to be honest with certain things, that is a big help."
With the Packers, Amos played on teams that amassed a 47-19 record and made it to the playoffs three times. He said he brings that winning mentality to 1 Jets Drive.
"What I am already accustomed to is the pressure of expectations," Amos said. "That is my mindset going in. Then with everything going on around us, everyone in the building expects to win. Regardless of the media, everyone expects to win. So coming in, specifically on defense, us collectively, we want to dominate and win every day."
See the best images from Wednesday's training camp practice at 1 Jets Drive.