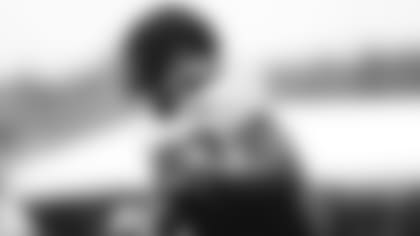 The laboratory that has been host to the Jets' offense the first weeks of training camp is about to go from experimentation to implementation in Friday night's first preseason game, in Philadelphia against the Eagles.
In terms of chemistry, however, one of the more impressive developments has been the quick comfort level developing between second-year quarterback Zack Wilson and Tyler Conklin, one of two tight ends signed in free agency during the offseason.
"We've had a great feel and some cool reps," Wilson said, referring to Conklin and their connections during this week of practice at the Atlantic Health Jets Training Center. "He's a talented guy and I'm excited to work with him. He and C.J. [Uzomah, the other free-agent TE], for one, they do a great job in protection and the run game. It helps when you have big-body guys you can go to on third down and let them win and separate. You need those big-body guys and it's going to bring a whole other element to our game."
Conklin came to the Jets after four seasons with the Minnesota Vikings after being selected in the fifth round (No. 157 overall) in 2018. Over his career, he has played in 64 games (with perfect attendance in all but one season), made 93 receptions (9.9 yards a catch) and caught 4 TD passes. The 2021 NFL season was his best, statistically speaking, when he had 61 receptions (on 87 targets) for 593 yards (9.7 yards a grab) and 3 TDs.
Conklin brought his good humor and flowing beard to Wednesday's press conference with reporters, acknowledging the emerging chemistry with Wilson.
"Before I got here, I could see all the traits," Conklin said. "The arm strength, the athleticism. The only thing that's changed since I've been here is seeing how hard he works in practice, his love for the game and how hard he works at it.
"In terms of arm strength, he recently threw me a missile over the middle. He has the ability to extend plays, which makes it hard for defenses to cover because the DBs and safeties have to chase guys around and if the rush can't get to him, it creates so many opportunities for the offense."
That comfort level with Wilson also extends to Uzomah, another hulking tight end who affords Wilson and the scheme installed by OC Mike LaFleur multiple options -- options that extend to the run game and also give the Jets' other receivers from Elijah Moore to Corey Davis to rookie Garrett Wilson more opportunities for explosive plays.
"I think we're all going to complement each other really well at all position groups," Conklin said recently. "We have really talented receivers, obviously a talented tight end room, the running backs and the offensive line. C.J. and I have talked a lot and we're really excited."
At last Saturday's Green & White Scrimmage at MetLife Stadium, Conklin flashed as much as possible in a controlled environment and drew praise from HC Robert Saleh.
"Conk is awesome," Saleh said. "He's been fantastic for us. The whole [tight end] group really has been really good for us, but as far as he's concerned, just his ability on third down to create separation and win those one-on-ones and be a run blocker, he's an all-around tight end. He's been a pleasant surprise."
See the Green & White on the practice field in full pads during week three at training camp.