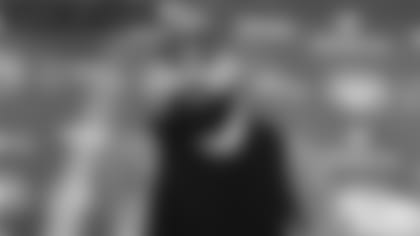 In his second season with the New York Jets, the stars appear to be aligning for TE Tyler Conklin. With QB Aaron Rodgers and offensive coordinator Nathaniel Hackett joining the team in the offseason, Conklin said Friday the offense has become "really tight-end friendly."
"I love it," Conklin said. "I love the way they are teaching this offense. It is really tight-end friendly, and the room loves that. We love this offense from a pass and run game standpoint."
Last season, Conklin was one of the Green & White's most reliable pass catchers finishing with 58 receptions for 552 yards and 3 touchdowns – second on the team in each.
Before joining the Jets in 2022, Conklin battled Rodgers twice a year for four seasons as a member of the Vikings. This season, he is excited to be playing alongside the four-time MVP and using the unique wrinkles he provides..
"When we used to go play [Rodgers], especially with him and Davante [Adams], no matter if you are up one touchdown or two, you're always stressed out," Conklin said. "It could be a third-and-144 and he would throw a back shoulder to Davante, and it would seem so easy. So, it is nice to have that on our side now."
During Friday's practice, Rodgers took a quick snap and before Conklin was fully into his route – not 3 yards off the line of scrimmage – Rodgers found him for a swift completion.
"On that play, they blitzed," Conklin said "And he wanted to throw it and it worked out. He just has ways to steal easy plays and steal some yards."
Conklin added about Rodgers' after the snap: "That is a cool thing about this offense. We have our base installed and the structures to our plays and then there are so many little things that he has and has learned over his career."
In Green Bay, receiving tight ends like Conklin found notable success with Rodgers. In 2020, Rodgers' third MVP season, Robert Tonyan finished with 11 touchdown receptions, the fifth-most in the league. In 2011, Rodgers' first MVP year, Jermichael Finley had 8 touchdown catches, 12th-most in the league and third-most among TEs.
Conklin said that during the offseason he studied Finley, Tonyan and other Green Bay TEs to build familiarity with the future Hall of Famer.
"It is unique because every tight end has a different skill set," Conklin said. "And when you go back and watch the guys [Rodgers] played with, everyone did different stuff. When [the Packers] had Jared Cook he was running a lot of slants and glances split out wide, Tonyan was more of an H-Back type of guy running swirls and corners. So, I did a lot of watching their film. That was a big part of my offseason film study."
After the end of last season, Conklin said he was looking to add another dimension to his game, making plays more vertically, creating more yards after the catch and ultimately producing more explosives to find the end zone. While Hackett was the offensive coordinator in Jacksonville from 2016-18, tight ends accounted for 24% of the team's receiving touchdowns and in 2017 Mercedes Lewis led the team with 5 TD receptions. For Conklin, that leap can happen with Hackett and Rodgers.
"I feel like it [the offense] goes back to the West Coast style," Conklin said. "The outside zone opens up a lot of explosives for us, opens up the play-action game and the route tree overall."
See the Jets on the field for the second time at 2023 Jets Training Camp.