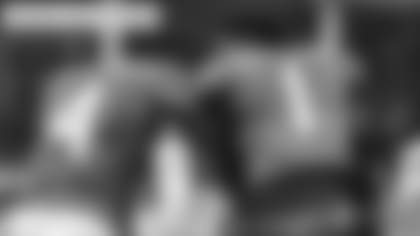 It's been 40 NFL seasons, yes 40, since Sports Illustratedwriter Peter King, then a reporter for The Cincinnati Enquirer, first set foot on a training camp field, and to say things have changed would be an understatement.
"In 1984, I was covering the Bengals' six-week camp in Wilmington, OH," he said. "It was warm and toasty and for a majority of those days the Bengals had two-a-days, 9-to-11 a.m. and 3-to-5 p.m. The majority in pads. The one thing I regret is how many times I'm standing with Paul Brown, the owner of the Bengals, and I'm not writing anything down. I consider myself highly fortunate to have begun my career in an environment like that."
A couple of years later he was at the Steelers' training camp in Latrobe, PA. He asked to arrange an interview with Mike Webster. He was given his room number and told to merely knock on his door "and he'll let you in." That level of access is, well, 40 years gone.
On a stop at the Atlantic Health Training Center to scope out the Jets, QB Aaron Rodgers and head coach Robert Saleh, King told team reporter Eric Allen on a recent edition of "The Official Jets Podcast" that his first stop was watching Rodgers at practice before offering a veteran's observation.
"A couple of things occurred to me, first, the Jets are really lucky to have the defense they do," King said. "Iron sharpens iron. Rodgers' passes are so precise, he's one of the most accurate throwers of the football in NFL history. Sauce [Gardner] is going to have a good experience, the whole secondary is going to have a good experience.
"During the week when they prepare for [Buffalo's Josh] Allen, [Miami's] Tua [Tagovailoa], [New England's] Mac Jones and [Dallas'] Dak [Prescott] and whomever is on the schedule -- they will not face a more accurate passer. And what I saw in practice it was hard for Rodgers to complete a pass, very hard. That is a damn good secondary." He added: "This is a playoff secondary right there."
Though the Jets waited and waited and waited before they were able to acquire Rodgers from the Packers a few days before the 2023 NFL Draft, King is convinced that the QB's decision to extend and rework his contract sent an incredibly selfless message to his teammates by giving general manager Joe Douglas breathing room as the Green & White butt up near the league's salary cap.
"I asked him about it and he basically said a lot of players restructure contracts, but they don't say 'here's the money back,' " King said. "Clearly if he had done nothing with the contract he would have made more, but he also would have severely hamstrung the Jets. It reminds me of what Tom Brady used to say, that if you're spending to the cap, he's fine with it. Aaron Rodgers said 'this is what makes me happy, I wanted to do this, no one forced me.'
"That should endear him even more to his teammates and the fanbase."
By redoing his contract, Rodgers indicated that he currently plans to play for the Jets beyond the 2023 season. And Rodgers has said several times that he's having a blast with his new club.
"One thing he talked a lot about is that he had never played for a defensive head coach before and really likes this Robert Saleh," King said.
"He said 'I like him because we talk, I might come up with an idea and he might take it. And sometimes, he'd say it's a good idea, but we're not going to do that. I love that. I just want someone to listen to me and let's talk and do what you want to do. I just want to be heard.' I got the impression he feels that Saleh and Joe Douglas are excellent sounding boards for his ideas. He also talked admiringly of Joe D. The Packers do things one way and Rodgers chafed that they didn't have open lines of communication. I also think the Packers have a way of doing things and for the last 30-35 years, how's that way worked? Pretty damn good."
Asked by Allen if he would now put Rodgers' place in NFL history, King said -- for better or worse -- greatness = winning.
"To be top 3, top 5 all-time he has got to win more," King said. "A Super Bowl or take the Jets deep into playoffs," King said. "It's an incredibly subjective list. On my list are Brady, [Joe] Montana and probably No. 3 [Otto] Graham. Graham played for 10 seasons [1946-55] and in 10 seasons [for the Browns in the All-American Football Conference and then in the NFL] he played in a championship game each year and his team won seven. The game was different 70 years ago, but if you're looking at it logically and want to consider it all, history is written by the winner. Aaron Rodgers needs to win more to elbow his way into the top 3-5."
King pointed to three story lines to watch in the Jets' season:
•Is the offensive line good enough and can OL Mekhi Becton become a prominent figure?
•WR Allen Lazard is going to surprise people and he is going to be "a huge factor in the offense." King predicted 70 receptions and 9 TDs, adding that "chemistry" with Rodgers is key.
•The Jets' defense last season was one of the best in the league, and King pointed out that it was virtually untouched by the injury bug that struck offense (for example, Alijah Vera-Tucker and Breece Hall). "You cannot take that for granted," King said. "Injuries are impossible to predict. The defense is top 5 if healthy."