Newyorkjets.com is profiling each playoff game in this NFL postseason, with a special eye on Jets angles in each of the matchups. Today: the NFC Championship Game to be played Sunday: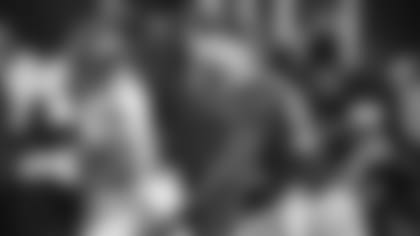 (5) SAN FRANCISCO (14-4) at (1) SEATTLE (14-3), 6:30 p.m. ET, FOX
With two evenly matched, bitter division rivals set to square off for a Super Bowl berth, this NFC Championship Game has it all.
Both the Seattle Seahawks and the San Francisco 49ers have freak athletes at the quarterback position, powerful runners in the backfield, and dynamic receivers hauling in passes. Yet each team's offense does not even begin to stack up to its incredibly tough defense.
Seattle's secondary is as stingy as they come with three defensive backs selected to this year's Pro Bowl — safeties Earl Thomas and Kam Chancellor and CB Richard Sherman.
"Our preparation separates us more than anything," Sherman said of the group's success. "We work hard throughout the week. We put in the extra man hours watching the film, giving teams the utmost respect."
Meanwhile, San Francisco's strength comes from a murderous row of linebackers — Aldon Smith, Patrick Willis, NaVorro Bowman and Ahmad Brooks. Smith's the only one of the bunch not invited to Hawaii for next week's Pro Bowl, but that's not to say he's unworthy. His 45.5 sacks since entering the league in 2011, including playoffs, are second in the NFL.
Of course, what rivalry would be complete without some drama between the head coaches? Jim Harbaugh of the 49ers and Pete Carroll of the Seahawks have a heated history that dates to their collegiate head coaching days at Stanford and USC, although Harbaugh said the rumors of animosity between them is "erroneous."
"It's football," he said. "It's competition. It's winning."
It's fitting that the NFC West has guaranteed a spot in the Super Bowl. Collectively, the Seattle Seahawks, San Francisco 49ers, St. Louis Rams and Arizona Cardinals accumulated a total of just 10 losses outside of games played within the division, and seven of those came against teams that went on to make the playoffs.
"I love that we're staying in the division," Carroll said. "It's been a great season for the NFC West, so we might as well finish it all here."
The Seahawks led the league in seemingly every important defensive category during the regular season, but if they're No. 1, San Francisco might just be 1A.
As for the aforementioned "freak athlete" QBs, San Francisco's Colin Kaepernick ranked fourth among signalcallers with 524 yards rushing, one spot behind Seattle's Russell Wilson (539 yards), although Kaepernick scored four times compared to just once for Wilson.
Perhaps the reason in the touchdown disparity can be explained by Seattle RB Marshawn Lynch's NFC-leading 12 TDs taking away some of the goal line carries. San Francisco's Frank Gore was tied for sixth in the NFL with nine scores on the ground.
The 49ers have a three-pronged attack through the air with WR Anquan Boldin (85 receptions, 1,179 yards, 7 TDs in the regular season), TE Vernon Davis (13 TDs, 16.3 yards/catch) and WR Michael Crabtree (returned from injury Week 13). Meanwhile, the Seahawks could be without their most talented WR, Percy Harvin, who did not practice Thursday due to a concussion.
Whether they advance to the Super Bowl or not, San Francisco's franchise already has lots to brag about. Harbaugh's now the only head coach since the 1970 merger to advance to his conference's championship game in each of his first three seasons at the helm. In doing so, the 49ers have now made it to the semifinals 15 times since '70, tied for the most by any franchise with the Pittsburgh Steelers.
Playoff/Rivalry Histories
"I think it's the best rivalry in football right now," FOX analyst Troy Aikman said of these two teams.
"I don't hate anybody," Sherman said, "but there will be some passion, some strong dislike, and some intensity. It's playoff football. So even if we weren't two teams that are familiar with each other, it's playoff football so there is going to be a lot of intensity, a lot of chippiness, and a hard-fought game."
Harbaugh's 'Niners are 4-2 vs. Carroll's 'Hawks, but both Seattle wins have been with a 12-on-11 advantage (crowd included) and those games have not been close. The all-time series is tied (of course it is) at 15 wins apiece, including a home win by each team this season (Seattle, Week 2, 29-3, and San Francisco, Week 14, 19-17).
"We scored more points at home," Carroll said. "We didn't score enough on the road, otherwise the games are just slugfests and fantastic football games. They've come basically down to the last possession and that kind of stuff. It's just the way it's been. Maybe it's that way again, I don't know. We're ready for it."
For as intense as the games have been between these two teams in the past, however, it could very well peak on Sunday in what will be their first postseason matchup ever.
Just how tough are these two defenses? Granted, the personnel were not identical in 2012, but the Jets played both teams during the 2012 regular season and our offense scored zero touchdowns and zero field goals, with the only points coming on on a Muhammad Wilkerson fumble-return TD.
Carroll was the head coach of the Jets in 1994, Seattle's defensive coordinator Dan Quinn was our D-line coach in 2007-08, and WR coach Kippy Brown once roamed our sidelines, too, back in the early '90s.
Niners C Jonathan Goodwin was drafted by the Green & White in 2002 and played his first four NFL seasons with the Jets. He's set to start his 56th consecutive game for San Francisco, including postseason play.
On Harbaugh's coaching staff, Eric Mangini, our head coach from 2006-08, is now a senior offensive assistant, Brad Seely was our special teams coach in 1994 and is special teams coordinator/assistant head coach, and Ed Donatell was our secondary coach in the early '90s and now holds the same position for the 49ers.