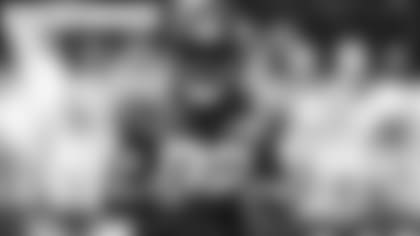 The Jets began the summer with a starting vacancy and S Tony Adams has shown early in camp that he is intent on taking advantage of his opportunity.
But as the Jets head to South Carolina on Tuesday for a pair of joint practices with the Panthers at Wofford College on Wednesday and Thursday followed by a preseason game at Bank of America Stadium in Charlotte, NC, on Saturday, the former undrafted free agent from Illinois is excited to battle with the Panthers instead of his teammates.
"In training camp, it gets kind of repetitive going against the same guys every day," Adams said. "We are competing against each other, and we are also at the same time trying to dominate the offense, and they have been giving us a great look. But now we are going down to Carolina and looking to compete our butts off and go dominate."
Adams played in 11 games last season and started in Week 18 against Miami. After playing mostly on special teams to start, over the final two games Adams played 104 snaps on defense and made 12 tackles. He rode the momentum into the offseason and had a productive OTA period and minicamp, which have led to strong start to training camp.
"His mental makeup," Saleh said of the part of Adams' game that has most impressed him. "He checks all the boxes. Physically, he's got red-line-to-red-line speed, he's physical in the box, he's got great instincts in the run game, he's got a great feel for the passing game. He checks all that stuff."
The Jets coaches asked Adams to sit out the preseason opener against Cleveland and Saleh has not stated his plans in terms of who will and won't play Saturday afternoon at Carolina. But Adams is excited to contend on the practice field.
"I have gotten to the point where I am playing a lot better now," he said about not playing vs. the Browns. "And my coaches didn't think I needed to play, so that is a compliment to how I have been playing and how I have been feeding off my teammates.
"I don't want to put any expectations on us, but I think this defense is really good and we can compete with everyone, and we aren't scared of anyone."
The Panthers have a new-look offense highlighted Carolina QB Bryce Young, the No. 1 overall selection in April's NFL Draft, who HC Frank Reich announced at the start of camp will be the starter. In addition, the Panthers added Pro Bowl WRs D.J. Chark and Adam Thielen and TE Hayden Hurst over the offseason.
And despite Wednesday and Thursday's joint practices being Young's first action against an opposing NFL defense, Adams is not underestimating the 2021 Heisman Trophy winner.
"He was the first pick for a reason," Adams said. "I know he is going to bring it and we are going to bring it, too. I don't take anyone for granted. I know we've got ballers, too."
See photos of the Jets back at 1 Jets Drive during Tuesday's training camp practice.