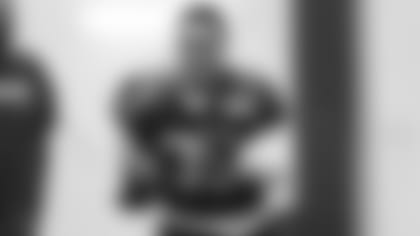 New Jets RB-WR Valentine Holmes, one of four players participating in the International Pathway Program in 2019, has a long road ahead of him as he begins transitioning from Rugby League to the NFL.
So, what's the most challenging hurdle he foresees as he tries to become the second Aussie ever to line up at running back for a professional football team in the regular season? Is it adjusting to the physicality of the sport? The rules? Being 10,000 miles away from home?
"It's more the playbook," he said. "That's one thing that you have to knock down here. You have to learn what you're doing, what everyone is doing pretty much. You have to remember all of that in case something happens. The physical side of the things on the field I'm not too worried about. It's just learning that playbook."
Before signing with the Green & White, Holmes trained in Florida for three months as a part of the program, which is where he met former Jets RB-KR Leon Washington. Washington worked out with the players in the program and Holmes hopes to play a similar position to Washington in the NFL. In Rugby League, he played fullback and winger, which he compared to a returner.
"You're the guy way down the back of the field and you have to catch those kicks and try to take them back for a touchdown, or a try back at home is what we call it," Holmes said. "I feel like I'll fill into that role quite easily and running back, I did a lot of work with Leon Washnigton. He sees me as a natural ball runner, and I can run routes from the back and catch the ball as well. I'm really excited to train and learn from these guys here."
Holmes will have more than a year to prepare for the big test in the NFL as he'll be the team's 91st player on the training camp roster and the 11th practice squad player this season (he can play in preseason games). Following 2019, he's no longer permitted to be a roster exemption.
Holmes and his mates have followed the NFL for a long time and he's excited about the direction the Jets are heading.
"The new signings that they've had the past couple of years, they're on a rise here and they're going places," he said. "Le'Veon Bell is a well-classed player in that position. I can't wait to get behind him and train with him and watch him and try to learn from him. They have some great players on the defensive side as well. It's going to be an exciting time."