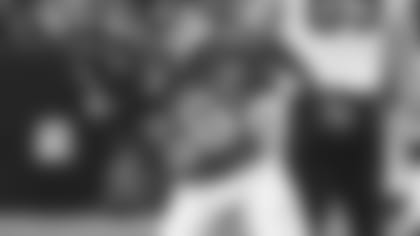 Two years ago, Quincy Williams was placed on waivers by the Jacksonville Jaguars. Now 34 games into his Jets tenure, Williams, who was claimed by the Green & White on Sept. 1, 2021, is playing as well as any linebacker in the National Football League. On an elite Jets defense, the explosive Williams has become a vital contributor.
"The biggest thing is the trust in my teammates," Williams said Monday. "I think I bought in this year."
In 15 games last season, Williams had 106 tackles, 3 sacks, 12 TFL, 6 QB hits and 1 PD. There was some uncertainty about his future last offseason before he, the older brother of Jets first-team All-Pro DT Quinnen Williams, inked a three-year, $18 million extension with the Green & White.
"The biggest thing through the contract, it was more like the highs and lows," Williams said. "There was a ceiling and a floor where they gather you as a player or whatever. So just listening to the players they thought were better than me and stuff like that kind of put a chip on my shoulder. I was like, I want to see what it is going to look like for a year of me buying in. So, with that being said, the first conversation I had was with my brother because he was at the Pro Bowl and I told him, 'Next year, I am going to be at the Pro Bowl with you.'"
During the Jets' 3-3 start, Williams has been a wrecking ball -- with 60 tackles, 2 sacks, 6 TFL, 4 QBH, 5 PDs, 1 FF and 1 FR. After Williams spoke to his brother, he sought out C.J. Mosley, a five-time second-team All-Pro and five-time Pro Bowl selection, for his advice.
"The next conversation I had was with C.J. Mosley, just asking why he became a Pro Bowler, when did he hit his stride, and the biggest thing around the locker room is that edge," Williams said. "How do you hit your edge in the game and how do you go from the start to finish? That is the biggest thing. So, with that chip on my shoulder telling me where I am placed and what is my ceiling and stuff — I didn't really like that because I make my own ceiling."
In Week 5 at Denver, Williams racked up 2 sacks and an FF in a span of four plays to help the Jets close the door against the Broncos in a 31-21 win. In the Jets' upset victory over the Eagles in Week 6, Williams led the defense with 12 tackles and added 1 PD and 1 FR. With Quinnen Williams also hauling in his first career INT and their grandmother in attendance, the Williams brothers became the second siblings in the last 30 years to each have a takeaway in the same game.
While Quincy Williams is arguably the fastest LB in the NFL, he has become a more measured force who has a great understanding of both the Jets' scheme and opponents' tendencies. He and Giants LB Bobby Okereke are the only players with 5-plus tackles for loss and 5-plus passes defensed through the first six weeks this season.
"I feel like this year I am in more control of my speed and then having conversations with people on when I can take my shots," Williams said. "And one of those things was just do your job-type mentality and letting the plays that present themselves come to me — make those plays. So, I felt like that's helped me out a lot this year and then just really taking constructive criticism on how to be a good pro, then how to be an All-Pro or Pro Bowler. But just having that mindset every single day, attacking with my preparation, and then the biggest thing is focus on going 1-0 and doing my job mentality."
During the offseason, Williams thought he was grouped in with players not on his level. Even with a new contract, he set out to prove his worth and showed he belongs in another tier.
"I knew for a fact I was better than them, but I wasn't showing it," he said. "So the biggest thing was like how can I show people that I am really like that. That was my mindset, so then it went from actually buying in with my teammates buying, learning where I fit into the scheme, talking to my coaches on how they want me to play certain techniques and stuff. And then on top of that going back to my nutrition, my off-the-field stuff, and then talking to C.J. Mosley on just how to be a pro and then how to be a Pro Bowler."
Take a look through some of the best photos from Sunday's 20-14 win over the Philadelphia Eagles.