This is the sixth in a series of features on the 2017 NFL Draft, position by position. Today's position: Defensive Line. The Jets' DL roster synopsis is followed by six players considered top candidates at DL.
*The Jets defensive line is led by three Pro Bowlers — Leonard Williams, Muhammad Wilkerson and Sheldon Richardson. 
Williams had a stellar sophomore campaign, earning team MVP honors as he led the team in both sacks (7.0) and quarterback hits (25). The 22-year-old USC product also ranked second on the Green & White with 86 tackles.
After signing a multi-year extension in July, Wilkerson battled an ankle injury throughout 2016. The seven-year vet only registered 4.5 sacks, his lowest output since his rookie season in 2011. Returning from the offseason fully healthy, the New Jersey native is primed to have a bounce-back year.
Richardson also had a down-year in relation to his production levels in previous years. The fifth-year player only brought down opposing quarterbacks a career-low 1.5 times, but he led the defense, unofficially, with 13 tackles for loss.
An interesting name to keep an eye on is second-year player Lawrence Thomas. Thomas originally signed with the Jets as an undrafted free agent following last year's draft and earned his spot as an opening day starter against the Bengals. Unfortunately, the Michigan State product suffered an early shoulder injury and was placed on injured reserve in late September.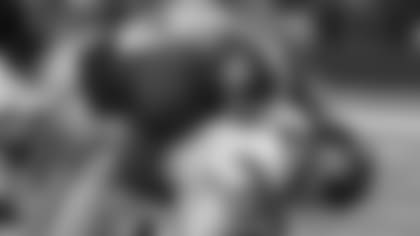 Six Top Defensive Linemen in the Draft
JONATHAN ALLEN, ALABAMA (INTERIOR)
Allen could have turned pro following the 2015 season with the expectation of being a first-round pick, but he decided to stay in Tuscaloosa for his senior season, a move that seems to have paid off. Last year, the 6'3", 286-pounder won the Chuck Bednarik and Bronco Nagurski awards as the nation's top defender. Allen tallied 69 tackles and 16 TFL and led the Crimson Tide with 10.5 sacks. The Virginia native leaves Alabama having registered 28.5 career sacks, the second most in team history behind Hall of Fame LB Derrick Thomas.
SOLOMON THOMAS, STANFORD *(EDGE) *Almost every year, a handful of players shoot up draft boards following the college season, and Thomas is one of those guys. The 6'3", 273-pounder has been projected as high as No. 2 overall to San Francisco. Following a redshirt season in 2014, Thomas racked up 39 tackles, 10.5 TFL and 3.5 sacks. This year, his production nearly doubled as he led the Cardinal with 62 tackles, 15 TFL and eight sacks. He was also the recipient of the Morris Trophy, given to the best defensive player in the Pac-12. Fun fact: Thomas and RB Christian McCaffrey, another highly touted prospect, were roommates. 
DEREK BARNETT, TENNESSEE *(EDGE) *It's not every day your stats are better than that of a Hall of Famer, but that's the case for Barnett. The 6'3", 259-pounder holds a Volunteers-best 33.0 career sacks, a record previously held by legendary DL Reggie White (32.0). Barnett's collegiate production is very impressive as he's also second in school history with 52 TFL, one shy of DL Leonard Little's 53. Lauded for his motor and relentless pursuit, the Nashville native started every game as a college student and was named a first-team All-American in 2016.
TAKKARIST MCKINLEY, UCLA *(EDGE) *Originally signing with Cal, McKinley failed to academically qualify and played at Contra Costa College in 2013. He transferred to UCLA the following season, but he started to show promise as a pass rusher as a junior, tallying 4.5 sacks, two forced fumbles and four pass breakups. Last season, the 6'2", 250-pounder upped his play as he notched 10 sacks, 18 TFL and six PBU. The Richmond, CA native runs fast and plays fast. He ran a 4.59 40-yard dash at the Combine and ranked No. 10 in the nation in 2016 in TFL per game (1.6).
CHRIS WORMLEY, MICHIGAN *(INTERIOR) *Toledo, OH is the melting pot of Wolverines and Buckeyes fans, and Wormley sides with the former. The 6'5", 298-pounder spent five seasons in Ann Arbor (including a redshirt freshman year), playing for the team he rooted for growing up. Wormley compiled 123 tackles, 18 sacks and 33 TFL during his time for the Maize and Blue. He was elected co-captain his senior season and was voted the top defensive lineman on the team in 2015 and 2016.
MALIK MCDOWELL, MICHIGAN STATE (INTERIOR)
McDowell's production in 2016 was not a true representation of his talent. Hindered by an ankle injury, the 6'6", 295-pounder only had 1.5 sacks and seven TFL. The Detroit native was originally a top-50 high school recruit and decided to stay close to home. McDowell was most productive in his sophomore year where he tallied 4.5 sacks and 13 TFL.