Before diving into the world of sports, I spent years in the restaurant industry, learning more about food than any one person needs to know. As a result, my love of food has blossomed and is almost as prominent as my love of football.
So you can imagine my delight when I learned the Jets were hosting a cooking school at the Institute of Culinary Education on Monday.
The event is one of five the organization is hosting this year, all centered around tailgating cuisine.
"I have wanted to get my husband into a class for years, but there has never been the right class… until now," says attendee Laura McGary.
Not only do you get your hands dirty and learn a little bit about the art of cooking, but you get to do it with a drink in your hand and a player at your side.
"It's the man class. We've got bourbon, beer and his favorite Jets players. How can you go wrong?" says McGary.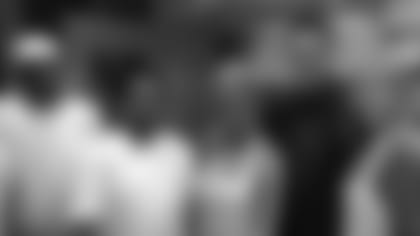 Jets alumni Freeman McNeil  and Greg Buttle were both in attendance, mingling and getting to know the Green & White's greatest fans. The intimate setting was perfect for them to unwind, roll up their sleeves and get down and dirty in the kitchen.
"Most of these people are sports fans," says Buttle. "If they aren't sports fans, they're cooking fans."
The former linebacker knows his way around the grill and for him, this class was an opportunity to meet fans and maybe learn a thing or two about his favorite pursuit.
"All through the year, as long as it's not snowing, I'll go outside on the grill," he says, "because I love the American pastime of hamburgers."
But even if you weren't a grill master, the class was taught by professional chefs who guided you step-by-step. Their patience and sense of humor made the evening memorable while expanding your skill set. Even the great Greg Buttle learned a thing or two about his favorite hobby.
"Brine your pork chops… it makes them much more moist!"
Of course, after chopping, stirring, dicing and sautéing, it was time to eat! Maple bourbon mustard glazed pork chops, slow roasted pork chilaquiles, shrimp and grits, beer braised brats — the list goes on and on.
"The food was out of this world!" says Idan Barsheshet. "The only down side is now I'm stuffed."
Tailgating will never be the same.