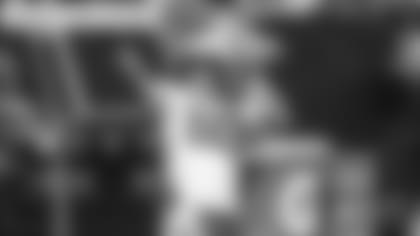 In his second season with the Jets, Long Island native TE Jeremy Ruckert has flashed throughout the spring and summer after a rookie season that was hampered by a foot injury.
Ruckert, whom the Jets selected in the third round (No. 101) of the 2022 NFL Draft, suited up for 9 games as a rookie and caught 1 pass for 8 yards. He dealt with plantar fasciitis for most of the season as he sustained the foot injury in January 2022 at the Senior Bowl and did not begin practicing until Aug. 10. The injury persisted into the season and put a mental strain on the Ohio State product.
"I definitely felt it a lot at the beginning of last season and tried to push through it," Ruckert said. "It was the first real injury that I had really had, and I had never really missed any time because of an injury before, so it was new learning to deal with that mentally and trying to recover. 
"As it got later into the season, I started to try and push myself past it. And then towards the end of the year, I got more confident and was not thinking about it much and was able to get some playing time in the last game and got some confidence that sprung me into the offseason."
With a full runway into the 2023 season, Ruckert feels like he's playing faster, and it's shown throughout training camp.
"He has grown in leaps and bounds," TE C.J. Uzomah said. "That first to second season is where you grow the most, and I think you can really tell he has made strides in the offseason and made strides on the field."
Ruckert commuted between Nashville and Long Island in the offseason to train with fellow NFL tight ends. In Nashville, he attended a Tight End summit throughout the offseason that was founded in part by the 49ers' George Kittle, the Chiefs' Travis Kelce and retired 3-time Pro Bowler Greg Olsen. It's led by trainer Jeremy Holt and the AthElite Human Performance staff.
"It was good to be down there and see what these guys do with their offseason," Ruckert said. "It was my first one. I brought my fiancé down with me to Nashville and it was a good one. I spent a good two months down there and it is definitely paying off."
In OTAs, minicamp and early on in training camp, Ruckert has learned from and built chemistry with QB Aaron Rodgers. During the scrimmage period of practice Saturday, Rodgers pump faked towards the middle of the field to draw the defense in and then delivered a strike to Ruckert at the front pylon of the endzone for the score. Sunday, Ruckert took first-team reps and Rodgers connected with the second-year tight end on his first pass of practice.
"[Rodgers] sees things you wouldn't even think about years from now," Ruckert said. "And he can give you a kickstart on learning ball by him telling you every possible situation that comes to his mind. Just sitting down with him in meetings and on the field and hearing what he has to say, I have just been trying to soak it all up."
With no constraints and promising start to Year 2, HC Robert Saleh is excited to see what he has in Ruckert, who was one of the players who did not suit up in last week's preseason game.
"Ruckert's had a really good offseason," Saleh said earlier in camp. "He was really strong in OTAs. I don't know if any of you have had plantar fasciitis, but it's probably one of the more annoying injuries in the world because you can go and sometimes the doctor will say it's better if you just tear it. So it just lingers and it's just an annoyance, but to his credit, he fought all the way through and now he looks really, really good."
See photos of the Jets back in pads at 1 Jets Drive during an open practice on Sunday.