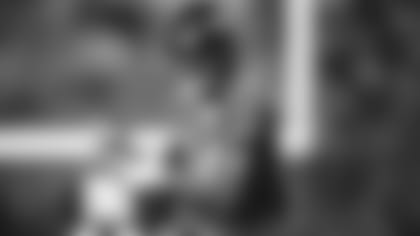 Jets WR Corey Davis (groin) and DT Folorunso Fatukasi (foot) did not practice on Thursday and head coach Robert Saleh said that John Franklin-Myers (hip) would be limited in Friday's practice. Saleh, wearing a Rye (NY) Garnet Football t-shirt while speaking to reporters Friday, said that all three should be ready to play on Sunday against the Texans.
"[Davis] just got into the wrong spot stretching out for a ball and there was a little tweak," Saleh said. "All indications are that he's good, so we'll limit him today, get him to Sunday and he'll be ready to roll."
Saleh added: "Going through the season, a lot of these guys who have been around the league for a long time, this is about management in terms of trying to get Sundays while preparing the best you can and getting all the reps you need. Early bye week, it feels like forever, but we have seven more games including Sunday, so just making sure our guys are healthy for Sunday."
While QB Zach Wilson has been a full participant in practice all week, he's ramping up to make his first start since Week 7, Oct. 24, at New England when he sustained a PCL injury and Saleh has seen his rookie signal-caller try to re-acquaint himself back with the offense during practice. Since Wilson's injury, the team has averaged the most yards per game in the NFL and has started three different signal-callers.
He returns to the lineup with a red-hot rookie in WR Elijah Moore, who has 5 touchdowns in as many games (4 receiving, 1 rushing). The second-round pick won Pepsi Zero Sugar Rookie of the Week Award for his performance against the Dolphins when he had a career-high 8 catches, 141 yards and a touchdown.
"[Wilson] is seeing a bunch of different receivers running at a different tempo than when he left, too," Saleh said. "Everyone has gotten a little bit better around him, so just him reacquainting himself with the offense with his teammates, but it's been a good week of preparation."
DC Jeff Ulbrich: Quincy Williams Is 'A Hitter'
Defensive coordinator Jeff Ulbrich said he knew a good thing when he first saw linebacker Quincy Williams in action in college at Murray State.
"When I was in Atlanta and he was at Murray State, I loved him," Ulbrich said. "I fought hard to try to get him in Atlanta [Williams was drafted in 2019 by Jacksonville in the third round, No. 98 overall] and for us to draft him. Obviously, it didn't work out. Spent a day with him, worked him out, the whole deal. He's got that stuff you can't coach. He's got obviously the athleticism, the explosiveness, the speed and all of that. He's also got an instinct that's really rare. He can't always articulate what he sees, but he sees it and he reacts.
"At the same time, he's a hitter. Some guys just understand how to unlock their hip at the point of contact and the timing and all that and the aggression that he has is really unique. He's got some stuff. He is a guy that is so far from what he will become. Not even close to being a finished product. He's got a long way to go and we're excited about him."
That Williams, the "other" Williams brother on the Jets with Quinnen, is "a hitter" was brought home last week against the Miami Dolphins when Quincy led the team with 15 total tackles (10 of the solo variety) as he roamed the field, hunting for fish to engage.
"I thought Quincy took another step in his progress," Ulbrich said. "He is more and more looking like a real linebacker in this league. Excited to see what he continues to become, because he has all the stuff you can't coach. Explosiveness, twitch, speed, all of it.
After signing with the Jets early in the season, Williams, 25, took more than 90% of the snaps on defense in four straight games. On Oct. 3 against Tennessee, Quincy and Quinnen became the first pair of brothers with sacks in the same game for the same team since the stat became an official in 1982. Quincy then sustained a concussion at New England on Oct. 24, quickly returned to the lineup, but saw his snaps never pass 30% in the four games before taking 88% of the snaps against Miami.
"I think a big part of the way he handled it is he's got a model in Jarrad [Davis]. When Jarrad was hurt, when Jarrad wasn't playing and even this past week where Quincy took some of Jarrad's reps," Ulbrich said.
He added: "I feel like Quincy's starting to really figure out the process of becoming a pro and putting the extra time in and he's meeting early with the guys and he's becoming a lot more detailed in his preparation. His notes are getting better, his film watching is getting better, his routine is getting better. As all these things start to line up front, you're starting to see a better pattern on Sunday. I think we're all excited about what he can become."
Friday in the Classroom
The class was called to order by game management coach Matt Burke on Friday, as he does every Friday.
The lesson plan is how to inform and educate Jets players on how to best avoid the kind of self-inflicted wounds, the proverbial "shooting yourself in the foot" that can, and has cost the Green & White games.
"Every Friday Matt Burke gets up there, we're calling it 'Learning Around the League,' " HC Robert Saleh said. "We show things from previous games, great teachable moments. The taunting penalties, we make sure to emphasize. The Detroit game in terms of just situational awareness, the Vegas game some stuff there [referring to two Thanksgiving Day games]. Every game has teachable moments and I'm sure teams are using our stuff as teachable moments, what to do, what not to do. Things that teams do to help themselves win."
All season Saleh has stressed his team's need to learn how not to lose games.
"It usually happens because, one, when you're trying to make a play you don't need to make; two, you get caught up in the moment and moment gets too big for you; or three you're a young kid who needs time," he said.
"Matt Burke did a great job this morning [Friday] just showing situations that happened over the course of last week and yesterday where teams beat themselves. You try to educate. In the Dallas and Vegas game, two playoff teams kept shooting themselves in the foot and we saw in the Bears-Lions game just ways to lose games."
See the Top Practice Images Leading Up to the Sunday's Game at Houston