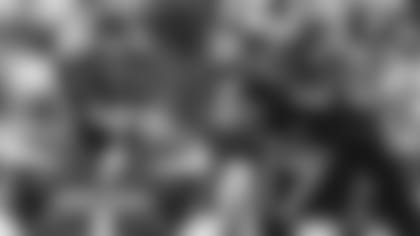 The 12th annual NFL Honors program in Phoenix on Thursday night is certain to have distinct accents of Jets Gotham Green.
Green & White rookies -- cornerback Ahmad Sauce Gardner and WR Garrett Wilson – are in the running for Defensive and Offensive Rookie of the Year awards. Two of the Jets' legendary veterans -- CB Darrelle Revis and DL Joe Klecko – may leave the awards ceremony at Symphony Hall as newly minted members of the Pro Football Hall of Fame.
The event will be carried live nationally on NBC, and simulcast on the Peacock streaming service and on NFL Network starting at 9 p.m. Eastern.
What follows are brief summaries of the quartet of Jets players, current and past, up for recognition and awards.
Sauce Gardner/Defensive Rookie of the Year
Sauce Gardner often talked about having three goals in his rookie season in the NFL.
Making the Pro Bowl (check), being named a first-team All-Pro (check) and being named Defensive Rookie of the Year (which could happen Thursday).
"I stepped in and had to play a big role when it came to changing the defense as a rookie," he told "Good Morning Football" on NFL Network recently. "I could say I'm an All-Pro, but it's bigger than that. It's more of a team thing. Just being able to go out there with my brothers, go out there every Sunday and give it my all, they expected a lot from me, and I feel like I lived up to the expectations and did my thing."
Gardner had 20 passes defended, 75 tackles and 2 interceptions in his first season in the NFL after being selected No. 4 overall out of Cincinnati in the 2022 NFL Draft. He faced many of the top receivers in the league, like Tyreek Hills, Justin Jefferson, Ja'Marr Chase, Stefon Diggs, D.K. Metcalf and others, while defending against elite quarterbacks like Aaron Rodgers and Josh Allen. Overall, opposing quarterbacks had a 53.1% completion rate and 61.2 QB rating when targeting Gardner while WRs receivers averaged 5.1 yards per target against him.
"Gosh, is he fun," said Judy Battista of NFL Network. "He has the potential to be that guy who erases people for years and whose opponents don't bother going in that direction. He's got a big personality. Has handled things really well knowing that New York is not the easiest place. For a rookie it's a smack in the face, especially this season, which was not the smoothest one. You have to appreciate how the young guys handled it."
Gardner won the Pepsi Zero Sugar Rookie of the Year award and took home the weekly honor three times -- Week 5 against the Dolphins, Week 7 at Denver and Week 9 against the Bills.
Garrett Wilson/Offensive Rookie of the Year
Garrett Wilson, the second of the Jets' three first-round picks in 2022 (in addition to Gardner and DL Jermaine Johnson) faced stiff competition for the OROY award -- from San Francisco QB Brock Purdy (the final pick in last year's draft) and Seattle RB Kenneth Walker (who rambled for 1,215 total yards).
Playing with four quarterbacks in his first season, Wilson had 83 receptions (a franchise rookie record), 1,103 yards, 4 touchdowns.The Ohio State product had three 100-yard games and surpassed 90 yards in games six times. His receptions and receiving yards led all rookie wideouts.
"I would vote for Garrett Wilson even with Purdy stepping in after [Jimmy] Garoppolo got hurt," said NFL Network national reporter Oscar Ruiz. "Walker is another guy that flashed and carried the Seahawks for a time. But Garrett Wilson did it all year long with multiple quarterbacks. The offense struggled at times, and he still put up those crazy numbers. Wilson was part of a rookie class that shined so brightly, foundational pieces. I expect him to make a big leap from Year 1 to Year 2. He's going to be special."
Wilson won the Pepsi Zero Sugar Rookie of the Week Award four times -- in Week 2 at Cleveland, in Week 8 vs. New England, in Week 12 vs. Chicago, and in Week 13 at Minnesota.
Speaking about his rookie season, Wilson said: "Just a lot of learning experiences, but it's special, it's really special. When I look back on this and talk to my kids and talk to my family, it's going to be something that I always look back on and have a lot of happiness that comes with it, so rookie season has been great."
Darrelle Revis/Pro Football Hall of Fame
Darrelle Revis, who played eight seasons for the Green & White, retired in 2018 after also playing for the Buccaneers, the Patriots and the Chiefs. His election to the Pro Football Hall of Fame would make him only the 11th cornerback to enter the Hall on the first ballot. The most recent cornerbacks to be inducted on the first go-round were Champ Bailey (2019) and Charles Woodson (2021). Three players -- OT Joe Thomas, LB James Harrison and DE Dwight Freeney -- are the other first-year eligible players, all of whom have been inactive in the NFL since 2018.
Revis was the Jets' top draft pick in 2007 (No. 14 overall) out of the University of Pittsburgh. Though his personal statistics are not considered to be gaudy, he was one of the most feared cornerbacks in the NFL, one who opposing quarterbacks often glanced at before checking down for another option. During his time as the lord of Revis Island, he had 29 interceptions, 832 combined tackles and 139 passes defended. Revis allowed only 0.93 yards per cover snap and a 64.5 completion percentage during his career. He was a four-time First Team All-Pro selection, was selected to seven Pro Bowls and was a Super Bowl winner in 2015.
"A reporter who's voting reached out to me [about the Hall vote]," said Lorenzo Alexander, a linebacker who ended his 15-year NFL career with the Bills. "You see all these names and then you get to Revis. He transcended the game. I don't know many shutdown corners who set themselves apart, I mean Revis Island ... No one was challenging him. In my mind. he's definitely a first-round Hall of Fame guy. Just the way he studied the game and took the game to the next level and how he cared about his trade."
Revis was a player who had an impact on every game he played in. He caused the opposition to often alter its game plans and he consistently did his best work against the top wide receivers in the game.
"If Revis isn't a first ballot Hall of Famer, I'm not sure what a first ballot Hall of Famer looks like," said Judy Battista of NFL Network. "I will be floored if he doesn't get in. I was floored for years because no one threw to that side of the field. He could take people out of the game."
Joe Klecko/Pro Football Hall of Fame
Joe Klecko's time is expected to finally come to join so many other NFL greats in the Hall.
Klecko played 11 seasons for the Jets and owns an unusual distinction -- he was the rare defensive player who excelled as an end, tackle and nose tackle. He also won two NCAA club boxing titles at Temple University in the heavyweight division and was a two-time All-Pro. He led the NFL with 20.5 sacks in 1981, when the stat was unofficial (it became an official league statistic in 1982).
"Now you have specialized guys who come in and play and then you've got the superstars who they can move around," said Tony Bruno, like Klecko a Temple University alumni, who is now a talk-radio host in Philadelphia. "But back then, that's what guys did. They played defensive tackle, they played defensive end, they played wherever they needed to be. And you see the game evolve where now you have guys who are one-down guys, two-down guys, three-down guys. And so the game has obviously advanced over the last 30-40 years."
Klecko, a charter member of the New York Sack Exchange (along with Mark Gastineau, Mary Lyons and Abdul Salaam), is one of three Senior finalists along with Bengals cornerback Ken Riley and Cowboys linebacker Chuck Howley.
"Playing in New York is one of the greatest things you can do," Klecko said recently "Winning in New York is the next best thing. I remember when we were the Sack Exchange and we were doing this photo shoot down at Wall Street and we drove down there and we turned the corner and it was mobs of people."
Among Klecko's accomplishments are: He is second to Gastineau (107.5 sacks) in Jets history with 78; he was second to the Giants' Lawrence Taylor in voting for the Associated Press Defensive Player of the Year and won the Pro Football Writers of America Defensive Player of the Year in 1981 while leading the Jets to the playoffs for the first time since 1969; and he is the only player in NFL history to earn selection to the Pro Bowl at three different positions.
"I can't imagine how great it would feel for him [to get into the Hall," Battista said. "I love Joe Klecko. I loved him as a player, as a broadcaster. He's the most emotional Jets fan. I put him on after a bad loss, he was so emotional and upset and wound up about it on a set and literally having trouble staying seated. I love that he cares so much and it means so much to him."