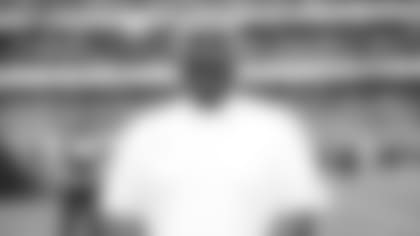 The National Football League has named Maine-Endwell High School Coach MATT GALLAGHER and Boys and Girls High School Coach CLIVE HARDING as the AFC and NFC recipients of the 2022 NFL Don Shula High School Coach of the Year Award.
For the first time, the NFL recognized the top high school coach from each conference as nominated by their respective NFL clubs. The honor is given to the high school football coaches that best represents character, integrity, leadership, dedication to the community, commitment to player protection and on-field success, in honor of the late DON SHULA, the winningest coach in NFL history.
Harding, of Boys and Girls High School in Brooklyn, NY, was nominated by the New York Jets to represent the AFC.
A retired New York City police officer and first responder who has always put others before himself, Harding has coached at Boy's and Girl's High School in Brooklyn since 2009 and this year led his team to an undefeated 10-0 season. Aside from football drills, Harding coaches his team for life beyond football. Throughout the season, his team has mock interviews and career prep, so they are prepared for job interviews and college recruiters. He cares deeply about education and setting academic goals for all of his players. He is frequently in-check with their teachers and counselors to ensure they are on track for graduation and having a variety of colleges to choose from. He truly wants the best circumstances for every individual on his team and says the most rewarding part of coaching is seeing his players mold into successful young men.
Harding and his team, in partnership with the Jets, takes part in an annual helmet reconditioning program, which dates back to the early 2000s. Harding coaches and implements fundamentally sound tackling skills into their practices in order to improve player health and safety. Only a fraction of Harding's coaching is on the field: the rest is building their character to be genuine and kind people.
"My reward is seeing the success they have after high school - playing college football, earning their degrees, getting their first job," said Harding. "Every year I have the opportunity to impact students not only on the football field but preparing them for life."
Gallagher, of Maine-Endwell High School in Endwell, NY, was nominated by the New York Giants. He led his team to a second consecutive state championship after a 13-0 season, compiling a 140-24 record in 15 seasons, winning six state championships.
All 32 NFL teams selected a nominee for the award, which was then chosen by a panel that features, Pro Football Hall of Famer PEYTON MANNING, Super Bowl champion and NFL Vice President of Football Development ROMAN OBEN, Former NFL general manager and analyst SCOTT PIOLI, Executive Director of USA Football SCOTT HALLENBECK and DAVE SHULA, former NFL coach and son of the late coach Shula, among others.
In partnership with Nike, as the 2022 Don Shula NFL High School Coaches of the Year, Harding and Gallagher will each receive $15,000 for their high school football programs. And each coach will receive a $10,000 cash prize. They will both be guests of the NFL and assist with coaching on the sidelines at the 2023 Pro Bowl Games in Las Vegas, and they will attend Super Bowl LVII in Arizona and will be recognized at NFL Honors.