The Atlantic Health Jets Training Center was rocking Thursday afternoon as 120 kids took to the fieldhouse turf to participate in a Fuel Up to Play 60 program event. The students, all in grades 4 through 7 from Union City, Irvington and Jersey City, were learning how to prmote better health at their schools.
And their teacher was none other than New York Jets defensive end Muhammad Wilkerson.
It wasn't too long ago that Wilkerson, a North Jersey native himself, was simply a middle school kid hoping to turn his passion into a career. He did just that, and now he's doing what he can to help others in that position follow their own dreams.
"I think this is a great opportunity for the children in the area to learn about eating healthy, exercising on a daily basis and living right," Wilkerson said. "Growing up, I didn't have this opportunity. I was pretty much the kid who'd get up at 11 o'clock and eat cookies and stuff like that. But now where I'm at in my career, it's all about healthy living and eating the right stuff to make sure your body can take on the things you do on a daily basis."
The NFL partners with the American Dairy Association and Dairy Council to sponsor Fuel Up to Play 60, a national school wellness program developed to tackle growing rates of obesity among youth by promoting healthy food choices and increased physical activity. The schools from which these students came have already made strides in addressing these issues by providing healthy breakfasts in the classroom.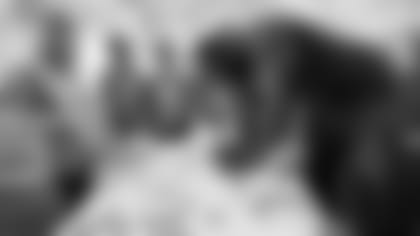 The students entered the Jets' facility by walking off the bus and onto a red carpet guiding them toward the fieldhouse, where they stopped for a few photo ops along the way. Soon after, they were listening to the NFL star's words of wisdom before breaking off into groups for a variety of physical activities, including Zumba, relays and receiving drills. No, Wilkerson did not lead the dance class, although he did make for a fine quarterback.
"I'm going to stick to just playing with the kids, throwing footballs and watching them do their little touchdown dances," Wilkerson told me prior to the event's start. "I'm not too good with the dance moves, so I'll let the Zumba guy do that."
"The kids were totally psyched to be with Muhammad," said Brenda Beltram, a public relations specialist from the ADA. "When they'd catch a pass from him, you could see the excitement on their faces and then they would spike the ball and do their cool dances. There were a lot of high-fives and selfies with Muhammad."
Wilkerson hopes that his words of wisdom will stay with these kids for years to come.
"I'm a local kid just like you guys, born and raised in Linden," Wilkerson told his audience. "Whatever you want to be in life – a doctor, a lawyer, an athlete – whatever it is, make sure you pursue that dream each and every day, and be the best person you can be every day."