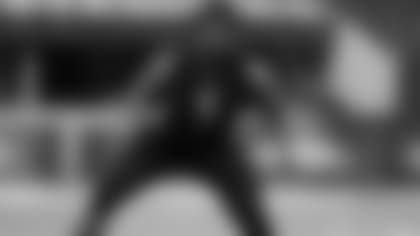 Bleacher Report — Matt Miller
Round 1, Pick 11: Louisville T Mekhi Becton
"At No. 11 overall, Joe Douglas can use his first choice as general manager on an offensive tackle, wide receiver, cornerback or pass rusher. Mekhi Becton has the highest ceiling of any offensive lineman in the 2020 class, but he also comes with the biggest question marks as far as Week 1 readiness. At 6'7", 364 pounds, he's a massive human being with rare movement skills, but his technique was a work in progress when he left Louisville.
"The hope is that an offseason spent honing his craft with offensive line coach Duke Manyweather will have him ready to rock and roll. Becton, if he hits, is what the Jets need protecting Sam Darnold. Now New York must attack the rest of those holes."
Round 2, Pick 48: Penn State WR K.J. Hamler
Round 3, Pick 68 (via NYG): Michigan EDGE Josh Uche
Round 3, Pick 79: Florida State CB Stanford Samuels III
Round 4, Pick 120: South Carolina WR Bryan Edwards
Round 5, Pick 158: Oregon OL Shane Lemieux
Round 6, Pick 191: Arizona State RB Eno Benjamin
Round 6, Pick 211 (via KC): Utah State EDGE Tipa Galeai
CBS Sports — Chris Trapasso
Round 1, Pick 11: Alabama WR Henry Ruggs III
"Rumors are floating that Ruggs will be the first receiver off the board. The Jets give Darnold an exquisitely fast burner with a surprisingly big catch radius for his size."
Round 2, Pick 48: TCU OL Lucas Niang
"Niang has had some injury woes but moves outstandingly for a man his size and can start as a rookie."
NFL Network — Maurice Jones-Drew
Round 1, Pick 11: Louisville T Mekhi Becton
"Sam Darnold benefits the most from this pick as the Jets bring in a massive, strong offensive tackle who is a violent finisher."