After the offense was slow out of the gate, starting quarterback Josh McCown and the unit executed down the stretch in the Jets' 17-14 win over the Browns as the team extended its winning streak to three.
With the Green & White down 7-3 late in the third quarter, the offense put together back-to-back scoring drives of opposite nature. First, following a Morris Claiborne interception that set the offense up on the Browns 13-yard line, tight end Austin Seferian-Jenkins hauled in his first touchdown catch as a member of the Jets. Then after a fourth-down stop, McCown led the offense on a 97-yard march that extended the team's lead to 17-7 with 8:30 remaining in regulation.
"We played well when we were needed, but we didn't play well consistently enough the whole game," he said. "But that's the NFL. Even if you're playing well, if you don't play at your best when your best is needed, then you lose games. Fortunately for us, we did that."
When his team needed him the most, McCown played his best. His 24-yard TD pass to Jermaine Kearse marked the duo's third scoring connection this season and capped off the Jets' longest drive on the road since 1996. McCown completed all six of his passes for 83 yards on the march, including a key 34-yard gain to unlikely target TE Eric Tomlinson.
"It was big. We needed it," said head coach Todd Bowles of the drive that made it a two-possession contest. "We were struggling. It was almost like pulling teeth the whole game. They had a good scheme, and they made some good plays to stop our running game. For us as a team to go 97 yards when it counted showed a lot of determination."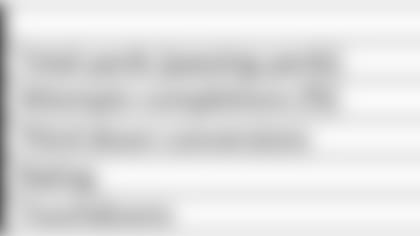 Despite the first half struggles, McCown completed 23 of his 30 passes for 194 yards. His 76.7 completion percentage was his second highest this season and his 72.1% completion rate on the year ranks No. 2 in the NFL amongst quarterbacks with at least 100 pass attempts. He also finished with a passer rating 101.2, the third time this season the 38-year-old has recorded a passer rating of over 100.0.
"They had a good scheme, mixing different looks and stuff like that, but I really feel like our execution was not very good," said McCown, who earned his first three-game winning streak of his career and first win at FirstEnergy Stadium. "Without checking the tape, from my end, I didn't well to start the game. I'll delve into that Monday and figure out what we need to go to get that fixed. Hats off to those guys, they had a good plan for us. We did a great time with halftime adjustments. Johnny Mo (Offensive coordinator John Morton) and the guys came up with some good things that helped us in the second half."