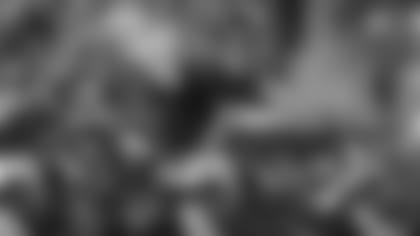 The Jets are set to become the sixth team in the Super Bowl era (excluding the 1987 strike season) to start three different quarterbacks in their first three games. A bout with mono kept Sam Darnold out of the lineup in Week 2 and backup Trevor Siemian suffered ligament damage in his ankle during the first half of Monday night's 23-3 loss to the Browns. Head coach Adam Gase told reporters Tuesday that Siemian would miss the rest of the season and Luke Falk will be his club's third starter in as many weeks when they meet the Patriots Sunday at Gillette Stadium.
"Luke will be the starter until Sam gets back. Once we decide what kind of direction we're going to go, that's when we'll know who we're actually going to try to sign," he said of acquiring another arm. "We're in that process right now, the personnel guys are working on it."
Siemian was injured after unloading a deep ball in the direction of tight end Ryan Griffin. Browns' rusher Myles Garrett picked up his second roughing the passer penalty on the play, hitting Siemian high and forcing the fifth-year veteran to land awkwardly backwards on his left leg.
"I think all of us are surprised when you watch it that it wasn't a break like what probably a lot of us have seen in the past," Gase said. "It was an ugly looking play, but I think there was a good amount of damage in there where surgery will be needed and it is going to be time for him to recover."
Garrett, who had four penalties, racked up three of Cleveland's four sacks. The Jets were held to just 3.9 yards per carry on the ground despite Le'Veon Bell's great effort throughout the night. Gase placed some of the offensive line's early-season troubles on his own shoulders.
"We just have to make sure that we do a way better job of everybody just buckling down, doing their job, making sure that their assignment is correct and every guy across the board is just doing their job. It starts with me as far as making sure I put our guys in better position," he said. "I feel like there was plenty of play calls where I look back at and I don't feel like I did a good enough job of putting them in the right spot."
With the game's outcome decided late, the Green & White coaching staff pulled star safety Jamal Adams out of the lineup. Flagged on consecutive snaps for offside and encroachment, the coaching staff thought emotions had gotten the best of him.
"I thought it was a smart idea as far as trying to do that and get him settled down," Gase said. "It happens, it's a game of professional athletes that are competing at a very high level. These guys want to win and he's right in the front of the line. He probably wants it just as much, if not more than anybody on our team."
Along with game planning for the Patriots, Gase was set to huddle up with the personnel staff to figure out a temporary backup plan behind Falk.
"Joe (Douglas) and his crew swung down here earlier to throw some names out there. I know they are getting with Dowell (Loggains) as well, just trying to figure out what is best for us especially for this game, for this week, so we are in that process right now," he said. "We will have to an answer sometime soon, but we haven't come to that conclusion yet.
Jetcetera
Darnold returned to the building for the first time in more than a week. He remains out indefinitely but the second-year passer is feeling better… OLB Jordan Jenkins (calf) and WR Demaryius Thomas (hamstring/knee) are both week-to-week after getting injured against the Browns. Veteran ILB C.J. Mosley (groin) and rookie DT Quinnen Williams (ankle) were inactive in Week 2 and are considered day-to-day… Gase said there will be no lineup changes, but he did discuss why Jonotthan Harrison replaced veteran Ryan Kalil at center in the final quarter. "We've had him up every week. He's a guy that I have a lot of faith in and he works extremely hard in practice. Obviously, with Ryan being one of our older players on the team, kind of knowing where the game was at that time, we just thought, as a staff, it was the right move to make." ... The Jets signed S Bennett Jackson to their practice squad. Jackson first joined the Green & White Sept. 1 and was waived Monday before the Browns game. The 6'0", 192-pounder was originally drafted by the Giants in the sixth round of the 2014 draft out of Notre Dame and spent two seasons with New York before he played another two with the Ravens.