While both Darron Lee and Eli Apple were first-round picks of the New York football teams in April's draft, the former Ohio State teammates trace back to humble beginnings in Columbus, OH.
"We started from the bottom," said Apple, a cornerback whom the Giants took with the No. 10 overall selection.
"Yeah, the legitimate bottom," added Lee, a linebacker whom the Jets grabbed with the No. 20 overall selection. "We were on scout team every single day."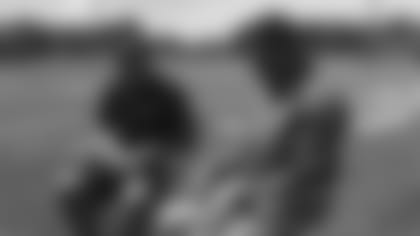 A medical redshirt in 2013, Lee earned freshman All-American honors in 2014 as he started 15 games and racked up 7.5 sacks and collected two interceptions and two fumble recoveries in a national championship season. Also a redshirt in '13, Apple started 14 games for the Buckeyes the following season and collected three interceptions along with 10 passes defended.
"Me and Eli literally have been through everything together," Lee said. "He got there just a semester earlier than I did. And on the aspect of like on the field,  we went through everything. One year we were on scout team, the next team we're starters on a national championship team, which is like a huge learning curve and a jump. He was always to my side.  He was always the corner to my side on the field. So it's like we always saw each other."
The recent draftees, who participated in a joint rookie transition program between the two clubs, will be on opposite sidelines at MetLife Stadium when the Jets host the Giants in a preseason contest on August 27.
"I tell you what, this dude is always watching film," Lee said of Apple. "Wherever I went, he's always watching film. He's always had his iPad in his hand, so I already know for a fact that he's always going to know what he's doing."
And Apple believes the Jets ILB, who finished with 12 sacks and 27.5 tackles for loss for the Bucks, will fit in well as he joins one of the most physical front sevens in football.
"He's going to give everything he has out there on the field," said Apple of Lee. "He's going to be somebody who goes 100 miles per hour every play. He's definitely going to look to hit somebody."