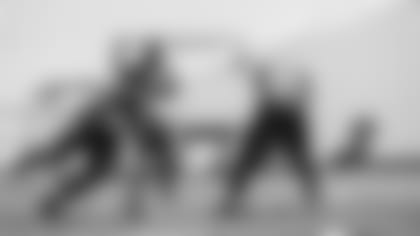 Once primarily serving as a special teams ace, Jets outside linebacker Josh Martin is developing into one of the team's better 'backers.
"Right now he's my best pass rusher in training camp," OLBs coach Kevin Greene said earlier in camp. "He has power, he has finesse, he has some good spin. He's a smart kid. He fits within the scheme. He's one of the leaders on defense.
"He's one of the better guys I have right now and can put out there and have the total confidence he's going to be exactly where he needs to be within the scheme. He's going to be there and play at a high, physical level."
Greene may know a thing or two about pass rushing as he ranks third in NFL history with 160 sacks, something Martin is well aware of.
"You definitely have a sense of pride when someone like KG talks about you in that way," he said smiling. "You try to wear that like a badge of honor and follow through with his high remarks."
After not recording a tackle and just 0.5 sacks in 2016, Martin flourished with more opportunity last season. The Columbia product led the team with 12 tackles for loss and was second with 20 quarterback hits. In a game of inches and seconds, one of the main goals for Martin, and the rest of the OLBs, is to finish.
"Just building on what I was able to establish last season," he said of his 2018 goals. "Obviously I had a lot of TFLs last year and this year I'm trying to turn those into more sacks and be more of a force and more of a presence on the defense."