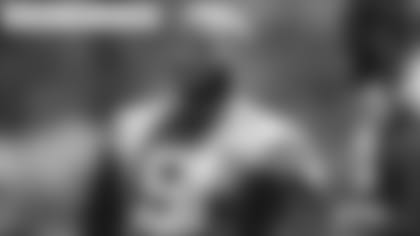 John Franklin-Myers is entering his sixth NFL season. While he's one of the veterans of the defensive line this year, he is still finding ways he can improve.
"I think each and every year, you got to find something that you want to work on," Franklin-Myers said. "For me it was, how do I want to attack guys? How do I want to make everything look the same? So, it was big for me some of these unpadded days where we can't power, how do I show power, but still work some finesse moves? I think that was important for me. I'm on year six, and you kind of run out of things to work on. I have great things in my toolbox, but again, I want to be able to do everything no matter what I get. So, I think it was important for me to do that this camp and I've been happy with the results and I'm ready to show it off."
Last year, Franklin-Myers started all 17 games for the Jets and was a key contributor to a defense that finished 4th in yards allowed. He had a career-high 38 tackles and 20 QB hits, 5 sacks, 4 tackles for loss, and 1 pass defense. Even though Franklin-Myers had a solid season, he believes there is another level he can get to this year.
"Yeah, I think definitely in a different position my life, as the years go on it's just taking on a different role," Franklin-Myers said. "Maybe part of that is mentoring some of these young guys, the other part of that is finding things to work on with minor things. I'm a guy who isn't afraid to say, 'I'm not the best.' We all strive to be the best and you're not going to become the best without working towards that. I'm asking Quinnen Williams questions, I'm asking Quinton Jefferson questions, Al Woods questions. All these guys who have been teaching me something each and every day. As long as I'm able to keep learning each and every day, I think it's going to make you a better player."
The Jets have rare depth along their defensive front and Franklin-Myers is a versatile performer who can win outside at edge and then inside against a guard. The Jets group of outside rushers include JFM, Jermaine Johnson, Will McDonald, Bryce Huff and Carl Lawson, who has missed some time with a back ailment. Second-year pro Micheal Clemons has also flashed position flexibility and a number of young players have shined with their time.
"I mean what a unique opportunity we have," Franklin-Myers said. "You don't experience that in the NFL, you don't experience six legitimate starters that defensive end. You talk about a guy like Bryce Huff, he comes in and he might be second- or third-string pass rusher, but that guy can go and start from any other team in the NFL. You respect the depth that we've created here and understand that it's a luxury. You understand that we have to go out there and have to put it all together. Saturday is a good opportunity for that, but you know September 11th is when it gets real. The depth is going to show, and we just don't want a drop off. Whether it's me, whether it's Jermaine [Johnson], Bryce [Huff], Mike Clemmons, Carl [Lawson], Des [Alexandre], Will [McDonald], doesn't matter who's out there. Pita [Taumoepenu] is another on,e Jayln [Holmes] just got here and got two sacks in the last game."
Head Coach Robert Saleh said that Franklin-Myers and the Jets' starters will play multiple series against the Giants Saturday night.
"I'm excited," Franklin-Myers said. "I mean, you know, we got a game coming up this Saturday. You can say what you want about the preseason, but you get an opportunity to line up against somebody else. It's real, and you work so hard, and it's cool. I've gotten a chance to watch my teammates and they got a chance to go out there the last few weeks, and I wasn't able to do it with them. But man, what an opportunity to go out there and actually show what I've worked on and work with my teammates. I just want to put a great product on the field, come out with a win, and lead this momentum into Buffalo."