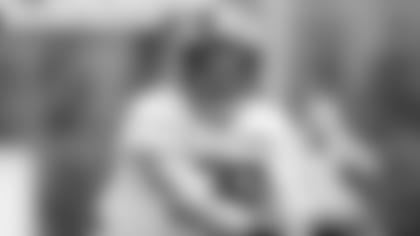 After starting training camp lining up with the second- and third- team offense, rookie OL Joe Tippmann has progressed and entered the Jets' starting center competition.
Tippmann took reps with QB Aaron Rodgers and the first team offense Tuesday. After that practice, head coach Robert Saleh said Tippmann and Connor McGovern would alternate time with the first unit. But Laken Tomlinson's calf injury has pressed the rookie into immediate action at left guard.
"Tippmann has been doing a really nice job," Saleh said. "He has elite strain and he's been showing up really well in the games and we just wanted to get him against better competition with our starting d-line because there's some things he's got to work on."
Tippmann leads the Jets with 99 snaps over two preseason games. He had a team-high 46 against the Browns and posted an 82.9 pass block grade, according to Pro Football Focus. Then against the Panthers last Saturday, he co-led the team with 53 snaps and helped the offense run for 141 yards on 37 carries (3.8 yards per attempt). Tippmann also had a 72.9 pass block grade.
"That Cleveland game was really good," Saleh said. "Then he had a nice week in preparation for Carolina and he had another nice game against Carolina. He's coming along like all rookies do if you just give them enough reps. He's going to figure it out, especially with his demeanor and the way he plays, so he's improving and he's making it interesting, for sure."
However, the Wisconsin product had to place the center competition on the backburner Wednesday. The Jets' second-round selection (No. 43 overall) stepped in for Tomlinson for the team's joint practice with Tampa Bay. He remained there in Thursday's practice, too.
"I know it's unfortunate that he's getting these reps at guard because of the injuries," Saleh said. "He's got so much athleticism and he's got elite strain in his game, which is awesome. He's got to learn all this stuff and continue to just work on the nuances of football."
Tippmann didn't do too much cross-training during his time in Madison, WI. Of his 1,456 snaps over three seasons with the Badgers, he took 11 at guard and 1,445 at center. Tippmann took reps at guard during OTAs and has been a quick study in camp.
"The first day I was a little uncomfortable at it," Tippmann said. "But I am quickly gaining that comfort level. Being able to jump back and forth between guard and center is a great opportunity for me to try out a new position."
Going forward, Saleh would like to see Tippmann improve his performance against starter-level defenders and build chemistry with Rodgers.
"It's just a matter of just learning the different techniques and football that we're trying to teach him and how to do it versus bigger people and better people," Saleh said. "To do it with all the thought that you have to have when Aaron's under center with cadence and changing plays and all that, so we just wanted to give him that look."
See the best photos of the Jets during Thursday's open practice at 1 Jets Drive.