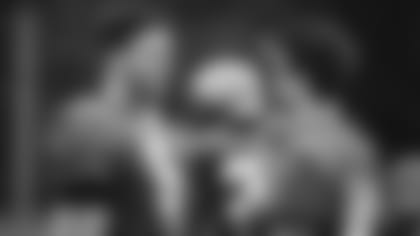 Joe Flacco has a place in the heart of every interviewer.
The veteran QB doesn't dish any secrets, but when he responds to a question Jersey Joe is honest, forthright and expansive. Even in the disjointed time of Zoom "meetings" instead of being face-to-face with ink-stained scribes, the man on the computer screen sounds like a sage veteran — because he is a sage veteran.
In the team's regular Zoom-ba interviews on Wednesday, Flacco, the starter the past two Jets games with Sam Darnold (shoulder) out injured, said that he stands with his quarterbacking teammate.
"I think it's always tough to evaluate a quarterback, based off of what our results are," Flacco said, referring to the team's 0-6 start. "Every quarterback in the league is in a unique situation to them and their team. And I think that this organization understands that we're not playing up to the level we want to right now, but I don't think that, you know, it's fair and I don't think that they're doing that, I don't think that they're looking at Sam in the light of what our record is right now, what we've necessarily done on offense. It's a unique situation right now and I think he's proven that he can be tough and mentally strong and I think this is one of those things that, when you have confidence in somebody like him, if you come out on the other end of this, it makes you that much better of a player."
Both quarterbacks took reps with the first team in practice on Wednesday and Head Coach Adam Gase declined to show his cards ahead of Sunday's rematch against the visiting Buffalo Bills (4-2).
"We've got to kind of work them both," Gase said. "We'll see how it plays out. I think having Joe [Flacco] as someone that has a lot of experience, and my confidence level on him if it's a little fewer reps is I'll be alright with that. To me it's that he can handle that. If we were talking about like a second-year player that was behind Sam, then I'd be a little more concerned."
Flacco started in the Jets' two most-recent losses, and admitted after the Miami game that he was not at his best. That said, the accomplished veteran is confident in his ability and supportive of Darnold, 23, who is in his third season in the NFL.
"Well listen, everybody likes to act like the quarterback's the guy that drives the ship and he does it all by himself, but every single position on the field is just as reliant on the guy next to him as the other guy is, and the quarterback is no different in that standpoint," Flacco said. "So, you have to play together as a unit, no matter who's out there, and you have to try to make it work as best as you can, but this is a true team sport and that requires all 11 guys on each side of the ball playing together."
Gase said that Darnold looked good Wednesday, and added: "It didn't seem like he had any kind of - just watching him didn't see any discomfort and things like that. I'm sure there was, he's probably trying to hide it a little bit."
Flacco, a Super Bowl winner and MVP with the Baltimore Ravens, knows what it takes to succeed in the NFL, and he is bullish on Darnold's short- and long-term success as the Jets begin to benefit from the return of players like WRs Denzel Mims and Breshad Perriman from injury.
"It's tough, I think we all have those expectations, but at the same time, when is the whole offense healthy in the NFL?" Flacco said. He added: "He [Darnold] wants to do things the right way. He wants to go out there and he wants to get the ball to guys, he plays hard, you can tell he works hard at it in the classroom. He wants to be the guy that does everything the right way, puts a lot of pressure on himself to go out there and play well and take care of all those things. I also think that he's a guy that once he gets out there, when he lets it loose and he kind of plays mentally free, he's got a ton of talent and he can really sling it. I think he's been great; I think he's been great to be able to be here with and experience what he is all about because he loves the game and wants to do it the right way."
See the Best Photos from Wednesday's Practice During Week 7