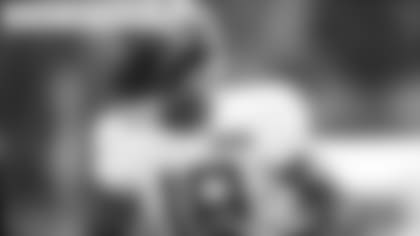 When it comes to believing in his teammates and coaches, Jets WR Randall Cobb adheres to "The Gospel of Aaron," as in QB Aaron Rodgers.
"We had the opportunity to play with him for a long time," Cobb said after practice on Monday, referring to his fellow former Packer teammates -- Allen Lazard, QB Tim Boyle and T Billy Turner -- all reunited at 1 Jets Drive. "We know what to expect, what he's looking for. Playing with great quarterbacks, they are very particular with the way they do things and go about it and how to get to certain calls, how to pass on that knowledge."
As many have observed, first during OTAs and now in the third week of training camp, Rodgers, as head coach Robert Saleh mentioned, is as close as they'll get to having a coach on the field.
"The best way I can put it is sometimes when something new is being presented, it can sound like a foreign language," Saleh said on Monday. "Having another voice, from a wide receiver's standpoint, you're teaching something, but the receivers might be receiving something different. A guy like Randall or Allen can say this is what he means in wide receiver language. Those moments are powerful, sometimes more powerful than coaching. The thing is they stand for the right stuff and have good internal drive so it's good that they're here."
It's not quite putting the band back together. It's more akin to fine-tuning the band that's already on the big stage.
And Cobb has a long résumé of working with Rodgers and offensive coordinator Nathaniel Hackett. The WR and QB first teamed up when Cobb was Green Bay's second-round pick (64th overall) out of Kentucky in the 2011 NFL Draft and Rodgers was beginning his fourth season as the Packers' starter. From 2011-18, Cobb had the first 470 catches of his career, and he, Rodgers and the Pack went to the playoffs six straight years.
After eight seasons in Green Bay, Cobb spent two seasons in Texas (with Dallas and then Houston) before the Packers, at the behest of Rodgers, got him to return to northeastern Wisconsin. Overall, in his 13-year career, Cobb has 625 receptions, 7,585 receiving yards and 53 touchdown catches in the regular season.
Cobb, who will turn 33 toward the end of August, has slowly been working his way back from an ankle injury that ended his 2022 season early.
"It was great, nice to get back out there after a long recovery," he said. "For me, I'm happy to be back on the field. I'm taking it day by day and have to continue to grow my wind. It won't happen overnight."
What Cobb and Lazard have, in a very real sense, been serving as conduits of that "Gospel of Aaron" to their new teammates. Especially to the emerging star wide receiver in Garrett Wilson, last season's NFL Offensive Rookie of the Year.
"Football IQ is a huge thing [for Rodgers], not just running plays on paper," Cobb said. "Things come to life. For a receiver, it's important getting open at the right time whatever the play call may be, whether you're the first read or the last. It's about understanding where you fit in is a huge piece. If you get open, but he's not looking at you it's because you're last on the progression. It's more than just the play call, you have to understand where you fit into the big picture."
Throughout his career, Cobb has filled many roles: wide receiver and return man on special teams. With the departure of Braxton Berrios to Miami, the spot is up for grabs. In his career, Cobb has returned 903 punts with a 9.2 yards per average and 76 kickoffs with a 25.3 per average.
"I'm very excited, I think we have the making of a very good team," he said. "It's about building it together. It's not about Aaron Rodgers. It's about the New York Jets and about collectively playing at a high level and finding a way for us to win games."
See top photos from Monday's training camp practice at 1 Jets Drive.