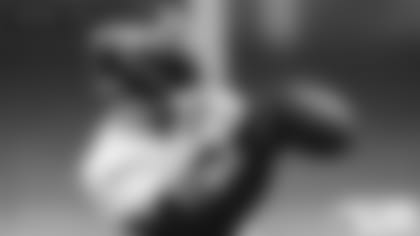 In the past few seasons, wide receiver Allen Lazard and elite quarterback Aaron Rodgers have forged a productive collaboration while they were with the Green Bay Packers.
On Thursday, however, at Jets training camp at 1 Jets Drive, the guys who have always been on the same page seemed to be reading from different scripts.
Lazard signed a lucrative four-year deal with the Green & White in March as the whispers that Rodgers was headed to the Big Apple became louder and louder -- eventually drowning out all other chatter. Lazard didn't know what to expect, so he went to the source.
"There was probably an eight-hour period of time where I was like, 'What the f--- bro?' " Lazard said minutes before Rodgers strode to the podium. "And he was like, 'It's going to happen.' I was like, 'Alright.' We had a deep conversation, talked about the possibility of where he would go. I would not say me coming [here] is the only reason he's here or vice versa. He knew what he was doing all along. He couldn't do anything about all the hype. He had no control. I didn't really worry too much, I was training with him out in California and I was seeing him two, three times a week. He was confident."
Asked about that "eight-hour period of time," Rodgers said with a wry grin: "I probably said I was coming to New York. Otherwise, I don't know what he's talking about."
Regardless of who said what to whom and when, the reunion of Rodgers and Lazard has the potential to pay huge dividends for the Jets. Pairing Lazard with second-year man Garrett Wilson, the league's Offensive Rookie of the Year, could give the Jets a potent one-two punch on the outside. And that's even before factoring in players like Breece Hall, Mecole Hardman, Corey Davis, Randall Cobb and the talented group of tight ends.
By now, Lazard's route from growing up in Des Moines, IA, to Iowa State (where his father and brother also played), to joining Jacksonville as an undrafted free agent and landing in northeastern Wisconsin when Green Bay plucked him off the Jaguars' practice squad ahead of the 2019 season has been well chewed over. The QB and the WR hit it off, sharing their commitment and desire to excel.
"The first day of the offseason in '19, when we got a new staff and head coach, [Matt] LaFleur asked everyone to get up and switch seats. He [Rodgers] was sitting by himself. I knew that if I need to be close to anyone, it's that guy. He saw my talent and how much I wanted to leave everything I had on the field. The biggest thing with him is that he wants to see people giving their all, especially wide receivers. I'm not the fastest, the strongest or the best, but he knows I will give my all to help the team."
Lazard, 27, blossomed using his size (6-5, 227) to emerge as one of Rodgers' favorite targets. In 57 games with the Packers, Lazard caught 169 passes for 2,236 yards (a 13.2 per catch average) and 20 touchdowns. In 15 games last season, he caught 60 passes for 788 yards, both career highs.
"When I first met him, it was just his approach to workouts and walk-throughs," Lazard said or Rodgers. "In practice every day he helped me get to that level. To see how much of a pro he was, and I'm still seeing the same person here. Even more so he's opening his arms to help guys, trying to teach. That's not to say he was hard to play with in Green Bay, but now he's got more guys to pick up. He plays in a state of flow and when you have 11 guys playing that way — that's when the magic and beautiful things happen.
"He's taking his time. We see how he cares for these guys and wants to put the icing on the cake for his career."
Lazard said that it's been a bit of an adjustment after parachuting into the country's No. 1 media market after playing in Green Bay for several years, but he said his goal is the same: win the Super Bowl.
"It's been crazy," he said. "I don't want to say overwhelming, but you have to pick up on the pace of life and adjust to the New York style of life. There's people with a lot of cameras, and I'm so happy camp is starting so I can ignore people and focus on football. My aspirations are so high for the next chapter in my life and career.
"The Super Bowl has been the main objective since I was 5 years old. I've been thinking of holding up the Lombardi Trophy. But even when we accomplish that, it will be the same thing ... keep on growing on and off the field."
See the Green & White on the field for the first time at 2023 Jets Training Camp.