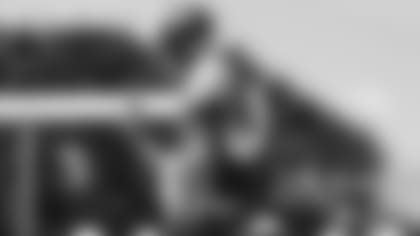 The Jets' rapid-fire signings of wide receivers Allen Lazard, Mecole Hardman Jr., and Randall Cobb created a crowded room. An obvious question was whether there would be an open seat in the room for the veteran Corey Davis.
The matter of whether he would be back to possibly catch passes from quarterback Aaron Rodgers or perhaps be a cap casualty became an earworm that dogged Davis through what he described as a long offseason.
"It was a lot of that, but it was all out of my control," Davis said on Sunday, the final day the Jets will train before the pads come on for Tuesday's workout. "The offseason was long, and I was at the point where there was uncertainty with the moves they made. It was hard not to think that. I've got to control what I can control."
Davis, 28, is preparing for his third season in Green & White and seventh campaign in the NFL after playing for four seasons with the Tennessee Titans. Over his two seasons with the Jets, Davis has had to deal with a series of injuries that limited him to 9 games, 34 receptions for 492 yards and 4 TDs in 2021 and then 13 games, 32 catches for 536 and 2 TDs last season. Those number came after Davis turned in two 65-reception seasons (2018 and 2020).
As public as head coach Robert Saleh was in the offseason about Davis' place on the team, he also maintained communication with the imposing 6-3, 209 inviting target.
"He kept in touch all the time," Davis said. "It's still a business, but I'm happy to be here. Saleh was telling me not to worry, things will work out for the better."
Whenever he's been asked about Davis and his place on the team, Saleh has consistently pointed to the intangibles that the Western Michigan product brings to the Jets.
"There's a lot of grinding that goes on in the run game, the red zone, all those big-boy catches that happen off the play-action pass," Saleh said in May. "Those things are where Allen [Lazard] and Corey excel."
In camp so far, and admittedly it's early, Davis has done his part collaborating with Rodgers. He caught a TD pass in the red zone, saying that Rodgers "put it where I can get it."
"The caliber and talent he brings have been awesome," Davis said about Rodgers. "Great dude, like a coach out there. There's nothing too small for him to coach, always getting us right. Things mainly at the line. He sees things differently and he's able to dissect it quicker. He's able to see things others may not see, and that helps us."
Davis was quick to admit that the team's returning pass catchers -- Garrett Wilson, C.J. Uzomah, Tyler Conklin and Jeremy Ruckert -- are acclimating themselves to the Rodgers way of doing things.
"Aaron brings a different system," Davis said. "I've been in the same offense my whole career, and this is definitely different. We have to catch up. Allen and Randall have that rapport with Aaron having been in Green Bay. Again, we have to catch up. There's a lot of different things he can do. Wwe have to catch up, and we're doing it."
Saleh remains juiced about the possibilities with a talented and jam-packed receivers room catching dots from Rodgers, and he hasn't been bashful about saying so.
"The cool thing with what [offensive coordinator] Nathaniel [Hackett] is bringing, and this whole system, is there is a lot of versatility amongst the receivers in terms of being able to play multiple spots," Saleh said. "To have a guy like Allen [Lazard] and Corey [Davis], then you add Garrett [Wilson] and Mecole [Hardman] with all the speed and all the competition that's going to happen at that five-six spot, Randall [Cobb] and all that. It's a really cool group of receivers and exciting to see how it shakes out." He added: "You can never have enough receivers."
On Sunday, Davis was clear: He's accepted the challenge and has immersed himself in the competition.
"That fire has never gone away," he said. "Whether I'm a 1, 2, or 3, I have a lot of talent to bring and put different stuff on the table. Doing the best I can and to lead these young boys."