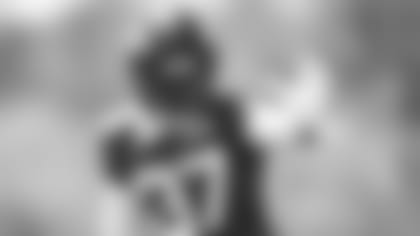 What's New?
The room that is the most "green" among Jets players? Few would dispute that the team's roster of cornerbacks, while promising and keen for competition, is inexperienced.
In the latter rounds of the 2021 NFL Draft, GM Joe Douglas went big for cornerbacks, nabbing Michael Carter II (Rd 5, Duke), Jason Pinnock (Rd 5, Pittsburgh) and Brandin Echols (Rd 6, Kentucky). Before the draft, Douglas also signed former Saints player Justin Hardee in free agency. After three days in Cleveland, he added undrafted free agent Isaiah Dunn (Oregon State).
"There's a lot of work to be had obviously," Head Coach Robert Saleh said. "They're young, they've got great mental demeanor, they've got great content, they want to learn, they want to do good."
Players to Watch
Bless Austin, entering his third pro season, appeared in 18 games in 2019-20 while totaling 86 tackles, 8 PDs and 2 FF. The 6-1, 198-pounder has good length and plays with physicality on the perimeter. Bryce Hall, who came back from a leg injury, was a value pick in 2020 who played in eight games last season. He showed some promise (a one-handed interception against the Rams), but also had those "rookie moments."
Hardee is a special-teams standout who played sparingly on defense in New Orleans. Carter, the team's second guy named Michael Carter, was the first of the three cornerbacks drafted this year. Last season, Carter started all 11 games and had 41 tackles, 3 TFL and 2 INTs. He finished tied for ninth in the ACC in pass defenses with 10. Javelin Guidry, an undrafted free agent last year, flashed down the stretch at nickel with 4 forced fumbles.
Key Questions
In total, the current group has a combined total of 35 career starts, so talk has naturally turned to the possibility of acquiring a veteran cornerback. Saleh, however, said that he is committed to working with and developing his young crop of cornerbacks.
"All these young guys are just starving for an opportunity," Saleh said. "And we've got time and we've got a lot of opportunities for them to showcase who they are and what they're capable of. On the coaching side we've got a lot of time to help these young men get better.
"Competition breeds improvement and so there's just going to be a great level of competition in that room and we're excited to see it unfold."
See the Jets CBs Leading Up to the 2021 Season