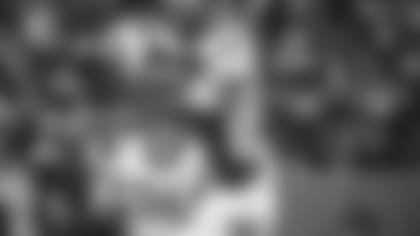 Jets tight end Chris Herndon was named to the Pro Football Writers of America's All-Rookie team.
Herndon ranked close to the top of most categories among rookie tight ends as he led the group with 39 receptions, tied for first with four receiving touchdowns and finished second with 502 receiving yards. The 6'3", 253-pounder's nine 20-yards-plus catches also paced the group.
The Miami product became the first Jets rookie tight end and second rookie at any position to record a touchdown in three consecutive games (Keyshawn Johnson, 1996). The fourth-round pick accounted for 25 first downs. Only two other Jets TEs, Dustin Keller and Anthony Becht, had more first downs in a season in the last 22 years, and Keller's 535 receiving yards in 2008 is the franchise record for rookie tight ends.
"Truthfully, I think I just started studying more, watching more film on my own, takings notes," Herndon said of his improvement throughout the season. "I was able to take what I practiced and took notes on and go apply it on the field. I saw myself getting better each and every week. I feel like the classroom stuff was big for me."
Top Images of the Rookies During the 2018 Season