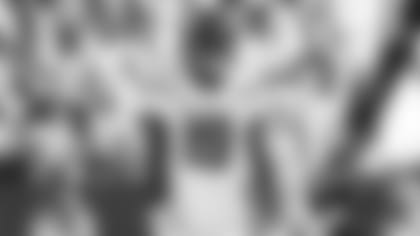 The Jets have signed WR Irvin Charles to the active roster and placed OL Alijah Vera-Tucker on injured reserve. The team also signed OL Dennis Kelly and DE Elerson Smith to the practice squad and released DL Jalyn Holmes from the P-squad.
Charles (6-4, 219) was elevated for last week's game against the Broncos and forced a fumble on special teams that led to the Jets' first points of the game. He originally signed with the Green & White as an undrafted free agent out of Indiana (PA) in May of 2022. He spent his rookie year on the practice squad and was activated for the team's season finale last season. Charles had 3 catches for 61 yards this preseason and made the 53-man roster before he was waived Sept. 16 and rejoined the practice squad Sept. 20.
Vera-Tucker (6-5, 308) ruptured his Achilles tendon during the Jets' 31-21 Week 5 win over the Broncos nearly one year after his 2022 season ended in Denver with a torn triceps. The 2021 first-round pick out of USC started the Jets' first two games at right guard this season before shifting to right tackle in Weeks 3-5. He was one of just seven players who logged 50+ snaps at three different positions last season (RG, LT, RT). Vera-Tucker took 250 snaps this season in five games.
Kelly (6-8, 321) has played in 130 games in his NFL career (54 starts). He was originally drafted by the Eagles in the fifth round in 2012 out of Purdue and spent four seasons with Philadelphia. He then joined the Titans from 2016-20, Packers in 2021 and Colts in 2022. Kelly was a part of Eagles training camp and was a final cut. He's played both tackle and guard positions in his career with the most snaps at RT (2,543) followed by LT (655), RG (428) and LG (126).
Smith (6-6, 252) played in five games for the Giants last season. He was originally drafted by the Giants in the fourth round in 2021 out of Northern Iowa. He's played in eight games in his career and has taken 121 snaps on defense as well as 145 on special teams. Smith was battled injuries in his career and was placed on injured reserve three times – January 2022, August 2022 and December 2022. He was waived by the Giants this past July.
Holmes (6-5, 283) first signed with the Jets in August before he was cut and joined the practice squad. He was drafted by the Vikings in the fourth round out of Ohio State in 2018 and appeared in 25 games (9 starts) in three seasons while tallying 43 tackles, 4 tackles for loss, 1 sack and 2 pass defenses. Holmes then played with the Saints in 2021 before a stint with the Giants in 2022.