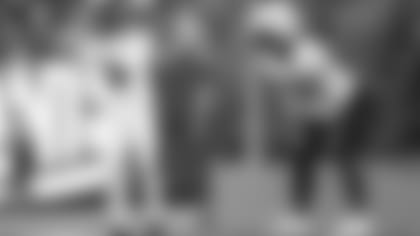 The Jets have re-signed P Thomas Morsteadand FB Nick Bawden after they were released Tuesday. The team also placed T Carter Warren and TE Kenny Yeboah on Injured Reserve, knocking them out of action for at least four games.
Morstead (6-4, 235) signed with the Jets this offseason after he spent last season with the Dolphins where he averaged 46.4 yards per punt in 17 games and pinned opponents inside their own 20-yard line 28 times with 2 touchbacks. He first joined the Green & White in 2021 for a 7-game stint and averaged 48.2 yards per punt and did not have any touchbacks (7 inside the 20). Morstead, originally a fifth-round pick by New Orleans out of SMU in 2009, was the Saints punter for 12 seasons and was named to the Pro Bowl and was an All-Pro in 2012. For his career, he has a 46.5 average and has pinned opponents inside their own 20 on 37.2% of his 798 career punts.
Bawden (6-2, 245) re-signed with the Jets in March. He spent last season on injured reserve after playing nine games with the Jets in 2021. Bawden, who transitioned from quarterback to fullback at San Diego State, was a seventh-round pick of the Lions in 2018. He missed his rookie season with a torn ACL before he appeared in 10 games in 2019. He was placed on IR again in 2020 and was waived in June 2021. Bawden, who has appeared in 19 career games, signed with the Green & White's practice squad in Sept. 2021.
Warren (6-5, 323), the team's fourth-round pick out of Pittsburgh, took 43 snaps in the Hall of Fame game against the Browns on Aug. 3 before he sustained an injury. A Paterson, NJ, native, he started 39 games at left tackle for the Panthers over the last four seasons and earned All-ACC honors in 2021.
Yeboah (6-4, 250) sustained a hamstring injury against the Buccaneers. He originally signed with the Jets as an undrafted free agent out of Mississippi in 2021 and has spent time on and off the team's practice squad. Yeboah has appeared in 19 career games and has 2 catches for 36 yards. He's taken 80 snaps on offense and 327 on special teams.
See the current Jets roster in photos leading up to the 2023 season.