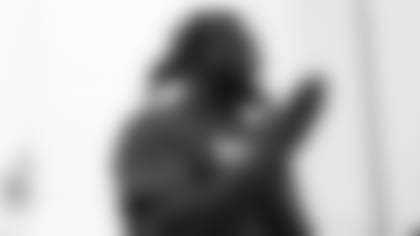 The Jets have signed edge rusher Jachai Polite, the first of their two third-round picks in April's draft.
Polite, who was taken with 68th overall selection, racked up 15.5 sacks and 26.tackles for loss while playing collegiately at Florida. The 6'3", 258-pound Polite broke out in 2018, recording 11 sacks and his six forced fumbles led the FBS and tied a school record.
"He was a kid that we thought had a lot of potential and upside and we're kind of excited to see what he can do," said general manager Mike Maccagnan after the second day of the draft. "We definitely think he has pass rush ability and potential, so we're excited to see what he can do as we work with him going forward."
Listed as a defensive end, Polite had a challenging spring and was limited by a nagging hamstring during the pre-draft process. He is considered an explosive rusher with good bend and the Jets liked the upside of the 21-year-old.
"He's a young player, young person, and we had a chance to bring him into our facility here," Maccagnan said. "We spent quite a bit more time with him and got a chance to get a better feel for him and we felt — like any player — there's always risk. But we definitely thought there was a good guy to kind of work with there, and we thought there's potential with him."
With the signing of his first professional contract, Polite will have the resources to start giving back to his mother. Katrina Williams, who has served as supervisor of housekeepers at a Florida hotel in addition to styling hair, has been the motivation for the new Jet defenders whose Twitter handle is @RetireMoms.
"She's a very hard worker," Polite said. "She's been working hard since she was 12, laboring and hard work. I just want to repay her somehow, some way, and hopefully it's with football."
Joining C Jonotthan Harrison, S Marcus Maye and CB Brian Poole, Polite becomes the fourth Florida Gator on the active roster. He will participate in the team's rookie orientation this weekend.