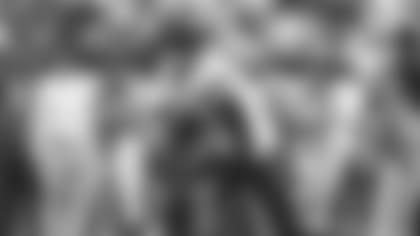 Before he got down to taking questions from reporters on Monday, Ahmad 'Sauce' Gardner mistakenly swatted one of the microphones placed on the lectern in front of him.
"I guess that's my third interception," he said with a wide smile. 
The Jets' rookie cornerback, who wears jersey No. 1, stood tall as he began to establish his "island" in the defensive backfield. And for his play through all 17 games of the 2022 NFL season, ProFootballTalk on Tuesday named the Cincinnati product its Defensive Rookie of the Year.
He finished his rookie season with a league-high 20 passes defensed, had 75 tackles and 2 interceptions as the Jets' defense vaulted from the bottom of the league statistically to land in the top 5 in several categories this past season. 
And over the course of the season, the brash rookie backed up his chatter with strong performances against some of the elite wide receivers in the NFL, a list that includes Ja'Marr Chase (Cincinnati), Tyreek Hill (Miami), Justin Jefferson (Minnesota), D.K. Metcalf (Seattle) and Stefon Diggs (Buffalo).
"Most defensive backs try to get in their heads," Gardner said. "I don't know what I'm doing, but they get mad. I'm just having fun out there. Ja'Marr Chase was difficult, I was talking a lot. But I have a lot of respect, these are the guys I've been watching for a while and it puts a smile on my face."
He added: "A lot of receivers, if I say something they don't say too much back. But I keep talking."
In the Jets' season finale at Miami last Sunday, Gardner helped to limit Hill to 2 catches for 23 yards in the loss. At one point Hill grew frustrated and showed it by pushing Gardner and jawing with the rookie CB.
"I actually respect him," Gardner said. "He kept it straight football, but he could get frustrated. After the game, he stuck his hand out and we shook hands. We just keep it football. I know I'm a competitor, and he is as well. Whenever you're going against a guy that fast, it's going to be a tough matchup. I feel I held my own."
Gardner's combination of size (6-2, 200), strength and athleticism make him a tough puzzle for opposition WRs and quarterbacks. He has impressive speed and used it well to recover, close distance and get his hands on the ball.
ProFootballTalk selected Gardner from among a defensive rookie crop that includes Aiden Hutchinson, the second overall pick by Detroit; Tariq Woolen, the Seattle CB who led the league with 6 INTs; Kayvon Thibodeaux, the Giants' DE and top draft pick; Houston safety Jalen Pitre; and Chicago safety Jaquan Brisker.
Jets fans have embraced Gardner, for his play, and for the confidence and skill he brings to the Green & White.
"It's been great," he said. "They [the fans] just welcomed me with open arms. I feel like I'm the person they needed -- the swag, I've got confidence and the way I carry myself. It's what New York needed. Me going on the field and playing good is just the cherry on top."
After going against some of the best WRs in the NFL, Gardner was asked which game was the most memorable.
"I don't know, I don't even remember the games -- and no, I'm not concussed," he said with a big smile. "I have to move on. I can't think about last week or the week before. I try to stay grounded and look to the next matchup."