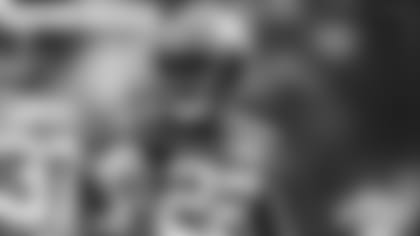 A lot has changed for Jets safety Tony Adams after his first season in the NFL. All except one thing -- his mindset.
After going undrafted last year out of the University of Illinois, battling for a roster spot during training camp and suiting up for 11 games, Adams is expected to make the roster this season and compete for a starting
job. He hopes to be on the field in the Jets' season opener against the visiting Buffalo Bills on Monday night, Sept. 11.
None of the success or accomplishments, however, have has gone to the head of the young back. He remains as driven as ever.
"I have grown a lot this year, but I keep that same undrafted free agent mindset," Adams said. "I think every year you need to set goals and embark on that journey. I think of it as climbing a mountain and every year you want to keep climbing. And my coaches never let me settle for anything other than the standard, and the standard is excellence, so I got some mountains in my head that I am trying to climb right now, that is all I am shooting for out here."
Playing primarily on special teams last season, Adams came on strong for the Green & White in the final weeks. Adams started Week 18 against Miami and played 104 defensive snaps over the final two games, making 12 tackles.
"I think that whole last year I learned a lot," Adams said. "Playing scout team and going against guys like Garrett [Wilson] and [Tyler] Conklin every day, I think it helped build my confidence. … So, when the opportunity came and it was time to throw me in the fire, I did not blink."
Heading into his second training camp, Adams has an advanced understanding of his role in defensive coordinator Jeff Ulbrich's defense. And early on in camp, HC Robert Saleh – and reporters – have taken notice of Adams.
"For Tony, I guess the cat is coming out of the bag a little bit," Saleh said. "Tony has an unbelievable mental makeup. Undrafted free agent, unseeded, a bunch of guys who we all thought weren't going to make the team last year, made it impossible for us to cut him. He does everything we ask of him and his efforts, strain, communication, football IQ, all of it is pretty damn good and he's competing."
Adams added: "It is just so simple. It is just doing your job every play. It is about focusing on your details and focusing on being where you are supposed to be when you are supposed to be there. It is just listening to your coaches and locking in on your details."
During practice Wednesday, Adams even (sort of) got the best of future Hall of Fame quarterback Aaron Rodgers. After a defensive lineman jumped offside in a scrimmage period, Rodgers tried to take advantage of a free play by throwing a deep pass toward the sideline. Adams read the throw and intercepted the pass along the sideline.
Afterward, Rodgers complimented Adams.
"[Rodgers] told me that the play was nice," Adams said. "It meant a lot coming from OG. I call him OG and it meant a lot coming from him. … The kid in me was excited."
Rodgers added: "I wanted to tell TA 'Man, nice play on that interception,' and I also want to remind him that was a free play because they jumped offside."
See the top images from Thursday's open practice at Jets Training Camp practice on a steamy day.