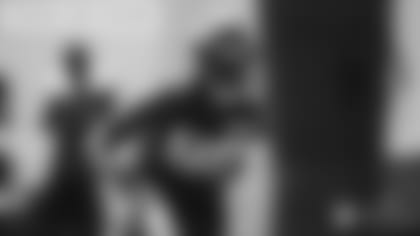 Head Coach Robert Saleh said the Jets' plan for first-round DE Will McDonald IV in his first season is to take things slow and allow him to learn. And with the benefit of a loaded defensive line room, the team has the flexibility to do so.
"We have about as deep of a D-Line group as you can have in ball," Saleh said. "Aside from the quarterback, defensive line, I'll argue, is one of the hardest positions to produce in your first year. …He has a chance to go find himself this year and figure out who he is and learn some new techniques."
The No. 15 overall selection in April's 2023 NFL Draft, McDonald played 54 games over five seasons for Iowa State and registered 34 sacks, 42 tackles for loss, 123 total tackles, 10 forced fumbles and 8 pass defenses. Last season, McDonald earned First Team All-Big 12 honors and in 2021 was named first-team All-American, first-team All-Big 12 and Big 12 co-Defensive Lineman of the Year.
During the draft process, GM Joe Douglas and Saleh were impressed by McDonald's production, athleticism and bend.
"Feel like he was one of, if not the most dynamic pass rushers in this Draft," Douglas said. "Great combination of skill, production and athleticism. I think it was on full display at the Senior Bowl and throughout his career. Fired up to add him to a strong unit and keep adding to the line of scrimmage."
In the Jets' final scrimmage period Sunday, McDonald lined up at RDE and won on consecutive plays with a mix of spin and juke moves.
Last season, the Jets tied for seventh in the NFL in sacks with 45 and defenders who accounted for 37 of those QB takedowns return. Playing in a strong defensive line room, Saleh is looking forward to McDonald developing into a more powerful rusher.
"He's got all the freakish ability," Saleh said. "He can win with speed and can counter inside, but until you get those tackles playing a little bit more heavy-footed because they're afraid of your power and all that stuff won't matter, so he's learning that aspect of it, but I'm excited."
McDonald added: "I am greatly improved from when I got here, up to now. I had a great day today and have just been trying to find a balance of trying to do a couple of different things. I have put a couple of new things into my pass rush abilities and now I am trying to just get better, and Saleh is definitely helping me do that."
Ahead of the Jets' first preseason game Thursday night at Tom Benson Hall of Fame Stadium against the Cleveland Browns, McDonald is ready for a taste of his first professional preseason action.
"I don't have a lot of thoughts, but I am excited," McDonald said. "I am going to approach it the same I do every game and the same that I do every practice. Come out there pumped and execute and do my job."
See top photos from Monday's training camp practice at 1 Jets Drive.