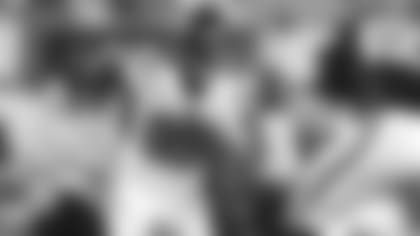 Six of the Jets' seven 2023 draft picks saw action Thursday night against the Browns. Below is a recap of how they performed during the 2023 Pro Football Hall of Fame Game, which was played at Tom Benson Stadium in Canton, OH.
DE Will McDonald IV
The No. 15 selection in the first round from Iowa State, DL Will McDonald IV played 33 snaps (45%), fourth-most among Jets defensive linemen, and finished the game with 2 tackles, 2 pressures and a QB hit.
Late in the third quarter, McDonald used an impressive spin move to twirl past LT Hunter Thedford and force QB Dorian Thompson-Robinson into a throw-away. Earlier, on the opening drive, McDonald came off the edge unblocked and pressured QB Kellen Mond into an off-target incomplete pass. Both pressures resulted in fourth downs, but McDonald is still hungry for that first sack.
"He did a couple of good things," HC Robert Saleh said of McDonald. "Again, pumped for him, first NFL action. I am sure he is going to want a lot of stuff back. He is going to be a good player."
McDonald added: "Next time I get there though, I am going to make sure I get the QB down. It was cool feeling being out there but would have been better if I got [the QB] down."
According to NFL's NextGen Stats, McDonald's average get-off speed on his pass rush snaps was 0.91 seconds.
McDonald made his first tackle wrapping up RB Demertric Felton after a 1-yard gain. In punt coverage, McDonald tackled Browns returner Hassan Hall at the Cleveland 26-yard line.
"It felt really good continuing to improve," McDonald said. "It was my first NFL football game, so I am learning a lot."
C Joe Tippman
A second-round selection (No. 43 overall), C Joe Tippman got the start and played 46 snaps (92%). The Wisconsin product led the team in offensive plays and lined up with multiple line combinations.
"Good for him getting all those reps," Saleh said. "I will see the tape on that one when we get into the trenches that way, but I am excited about the fact that he was able to get a lot of reps in today."
OT Carter Warren
The Jets' fourth-round selection (No. 120 overall) from the University of Pittsburgh, OT Carter Warren played 43 snaps (86%) at left tackle, second most snaps on offense.
"It was their first taste of action," Saleh said of the rookie class. "… There are a lot of guys where the lights just get a little bit big and there are a lot of guys who just flow right in, so you just want to give them a chance to kind of grow at their pace."
RB Israel Abanikanda
A fifth-round pick (No. 143 overall) from Brooklyn, NY, RB Israel Abanikanda started the game and scored the first touchdown of the preseason on a 10-yard run. The former Pitt Panther took an outside handoff, got around the edge and flashed impressive speed to get to the end zone.
"It felt amazing," Abanikanda told Jets team reporter Caroline Hendershot. "Especially at the end when I was celebrating with my teammates. That's what really brought me joy."
Abanikanda led the team with 27 rush yards on 9 attempts and had 1 reception for 5 yards. He averaged 3.0 yards per carry and played 16 snaps (32%), mostly in the first half.
"We know Izzy has speed. He can catch the edge, run the corner, all that good stuff," Saleh said. "Not every single one of his runs is he going to break loose and go for 80 yards and touchdowns. For most of the runs, you've got to stick your foot in the ground and get dirty. He's learning that style."
Abanikanda will add depth to a talented backfield.
"They all have a different style going," Saleh said. "Izzy [Abanikanda] is trying to find his footing. Obviously, [Damarea] Crockett and [Travis] Dye, they are working through it too. There's so much time left for them to kind of separate themselves and establish themselves as the go to after Breece."
LB Zaire Barnes
The Jets' sixth-round pick (No. 184 overall) out of Western Michigan, LB Zaire Barnes finished second on the team in tackles with 5. Barnes played 38 snaps (51%), second most among linebackers, and showed good sideline-to-sideline lateral quickness making tackles at both boundaries.
CB Jarrick Bernard-Converse
A sixth-round pick (No. 204 overall) from LSU, CB Jarrick Bernard Converse was placed on the active/Physically Unable to Perform list on July 19 and did not play.
TE Zack Kuntz
The Jets' seventh-round pick (No. 220 overall) out of Old Dominion, TE Zack Kuntz started and caught a dump-off pass from QB Tim Boyle for a 6-yard reception in the third quarter. He played 26 snaps (52%), the most for any tight end.