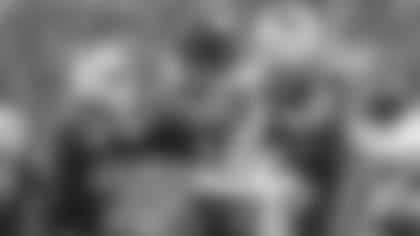 After going undrafted and with limited expectations in his first professional season, RB Zonovan "Bam" Knight made 4 starts and led the Jets in rushing yards over the final 7 games.
"I thought there was pretty much going to be a small role," said a candid Knight. "But I guess I just kind of did the little stuff to get that role."
After not hearing his name called during April's 2022 NFL Draft, Knight signed with the Jets as a free agent in May. He spent training camp with Green & White before being cut on Sept. 5, then signed to the practice squad the next day.
Knight was inactive the first 11 weeks, but after fellow rookie RB Breece Hall sustained a torn ACL in a Week 7 game at Denver, and injuries began to mount in the Jets backfield, Knight took advantage of the opportunity.
Against Chicago in Week 12, Knight touched the ball 17 times and totaled 103 yards from scrimmage in the 31-10 win. One week later, he got his first pro start, and while the Jets couldn't overcome the Vikings, he racked up 118 more scrimmage yards on 20 touches.
"What I was doing kind of added up," Knight said. "They saw the potential for me to be a starting back. … I brought to the table what they were looking for upstairs. It said a lot about what they were looking for in a player"
Knight called the adversity he faced to begin the season a "blessing in disguise." While on the practice squad, it was easier for him to focus on improving.
The former N.C. State tailback noted the reps in practice against one of the league's best defenses prepared him to make an impact when he was signed to the active roster on Oct. 25.
Knight found the end zone for the first time in Week 14 against the Bills, scoring on a 14-yard run that evented the scored, 7-7, at the time.
"Going against the best defense in the league every week," Knight said. "I think ultimately doing that on the practice squad got me ready for Chicago and I think that's what helped me excel early on playing."
Knight played in 7 games and finished the season third on the Jets in rushing yards (300) and totaled 400 all-purpose yards. He finished 10th among rookies and second among undrafted tailbacks in rushing yards.
"I pretty much came in and just tried to make an impact in any way," Knight said. "… It was just a matter of working and trying to stay focused and keep trying to get better every week."
During his first professional offseason, Knight intends to focus on the mental side of the game.
"I am just learning more of the details in the run game," Knight said. "And learning who's blocking who, the different techniques. And pre-snap, just learning different things that will help me create more explosive runs."