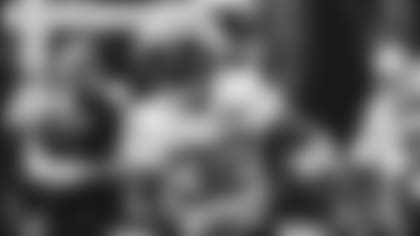 After an emotional second season in the NFL filled with ups and downs, running back Michael Carter has cleared his mind going into training camp and is primed for a big season.
"To be honest, [last season] was a long year," Carter said. "There was a lot of stuff out of my control. I do feel good about this year coming up, I was playing good ball at times last season but there were other moments I felt I could have played better. That is self-accountability. So, I feel amazing coming into this season. I see what everyone is saying, and I am grinding."
Last season, the Jets shook up the running back room around Carter drafting Breece Hall in the second round, signing Zonovan Knight as an undrafted free agent and trading for James Robison midseason after Hall went down with a season-ending injury in the Week 7 game at Denver. It all caused Carter's workload to fluctuate game-to-game. Carter, 24, ran for 402 yards and 3 touchdowns on the ground and had 41 receptions for 288 yards.
Hall took a majority of the carries through the first half of the season. After Hall's injury, Knight was elevated from the practice squad and made an impact. Carter played in 16 of the 17 games and finished second on the team in rushing yards (behind Hall) and third in receptions.
"Professionalism is the best way I can explain him," HC Robert Saleh said. "He comes out and does his job. He is not the first or going to be the last player to not have the second year that they want. It seems to be just a little plague that goes around the league. But he has been great this entire offseason, very deliberate in the way he works through, and I am excited about him."
Carter added: "It almost felt like at times I would come in and they would tell me one thing and something else would happen. Which is fine, you take it all in stride, it is a business. … You can't worry about what [the coaches and management] have going on. You have just got to play your own game."
Carter put together a strong offseason, getting in the weight room and on the practice field in the spring to heighten his value and augment his confidence
"It is always about trying to take it to the next level," Carter said. "And I came in looking a little bit different this year. I actually came in a bit slimmer this year. … Everything is about endurance in the NFL. Who can run the longest and who can last the longest."
Saleh added: "One thing we know is that he has fantastic contact balance. So, because of his mental makeup and stuff, I think he will bounce back."
Carter said he learned from last season and has become a more patient player this summer, taking camp practice by practice.
"I was a little too emotional last year because I love football," Carter said. "And you look at a guy like Odell [Beckham Jr.] who they give a hard time to, I feel him. All you want to do is be great. So, when something doesn't go your way, it hurts you extra. But I learned don't get too high, don't get too low and maintain positivity no matter what."
See the best images from the first fully padded practice of 2023 at Jets Training Camp.