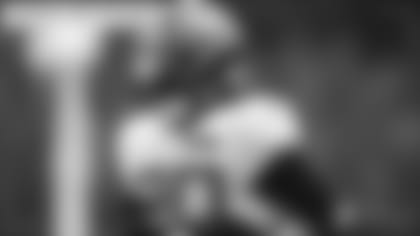 With RB Breece Hall's long-awaited return to practice on Tuesday, the Jets hope that lightning strikes twice in the same place for a player who came on the scene like a bolt out of the blue.
On the same day the Jets signed free-agent running back Dalvin Cook, the Jets activated Hall from the PUP list and he returned to the practice field 10 months after sustaining a season-ending ACL tear.
"It was exciting," Hall told reporters. "I'm looking for bigger things than just practice."
Hall, who the Jets drafted with the 36th overall pick in 2022, gave the Green & White and the entire NFL a tantalizing tease of what he's capable of. A dynamic playmaker as a rookie, he rushed for 463 yards (5.8 per carry) and 4 touchdowns in only seven games. He also had 19 receptions for 218 yards and a touchdown.
His promising season, and one could argue the Jets promising season, took a huge hit when Hall (after a thrilling 62-yard TD run) went down in the Jets' Week 7 victory at Denver. To make matters worse, the team suffered a double whammy when it also lost versatile offensive lineman Alijah Vera-Tucker to a season-ending injury in the same game. The Jets were 5-2 in games with Hall [and AVT], 2-8 without the pair of talented, game-changing young players.
In a strange twist to life in the NFL, the Broncos' coach last season, Nathaniel Hackett, is now the Jets' offensive coordinator charged with getting Hall -- and the entire offense -- on track.
"It's great to have him out and to see him," Hacket said. "I know what he can do. He's done a great job in his rehab. He's an important piece to our puzzle on offense. It will be great to see how he grows through that. I've always believed that injuries test a man. I see him continuing to work, he's been great in meetings, learning the system, and gathering all the info. It's a testament to the man he is."
With Hall back on the practice field, head coach Robert Saleh said he hopes Hall is ready to play in the Week 1 game against visiting Buffalo on Monday night, Sept. 11, but won't rush things or endanger Hall's long-term health.
"The timeline doesn't change," Saleh said on Tuesday. "We're comfortable where he's at, confident that he'll be ready for Week 1. He looks awesome, he has been deliberate, but we want to protect him from him. As far as Breece goes in preparation for Week 1, our anticipation will not change."
Since his stellar days at Iowa State and now in the NFL, Hall has brought along a slew of nicknames: Breece the Beast, Breece Lighting, and a new playful one bestowed on Hall by none other than quarterback Aaron Rodgers.
"We joke," Hall said. "He always calls me Bryce instead of Breece. We're just messing around."
Though he played in only seven games, Hall still finished the season as the Jets No. 1 rusher. Now with Cook about to join the team, the Jets' running back room is packed with those two, Michael Carter, Israel Abanikanda and Bam Knight. They each bring something to the table.
"As a defensive coach, I just sit there and think, we've got Breece and Michael and him [Cook] and two more in the backfield," Saleh said. "There's a lot of different things you can do to create headaches for defensive coaches. Like our defensive line, you can never have enough of them."
One of the ironies of last season is that the Jets had two superlative rookies on offense, Hall and WR Garrett Wilson. The early line was that Hall was on target to win the Offensive Rookie of the Year Award, but when he went down, Wilson rose to the top of the list and won the accolade.
"It's great having my dog back out there, he deserves it, he's a great player," RB Michael Carter said of Hall. "He deserves this moment to be back on the field. He's been grinding since he got hurt. I remember talking to him in Denver [after the game], he felt like the world was over, you know, your season is over. It feels like yesterday, but now he's back. It's a testament to how hard he worked. He didn't do too much today [Tuesday], but he had fun, I'm sure."
Hall acknowledged that his rehabilitation was anything but fun.
"It was bittersweet, really frustrating," Hall said. "A little bit of everything, good and bad days. I was an emotional trainwreck through the whole process. But it made me mentally and physically tougher. I feel if I can get past this then I can get past anything.
"In my mind, the whole process is about not pushing too hard. One step at a time, I know what limits I can push myself to."
Referring to Saleh's statement about protecting Hall from himself, Hall said: "As much as they want to protect me — I want to protect myself."
See photos of the Jets back on the field at 1 Jets Drive for Tuesday's training camp practice.