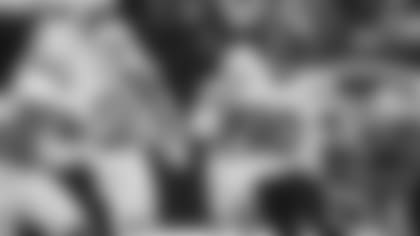 After the Jets rolled through the Miami Dolphins, 40-17, rookie RB Breece Hall was asked postgame what he preferred -- juking defenders or running through them. His response: "I like winning football games."
He didn't have to choose Sunday. Hall juked, ran through and sprinted past defenders to a record-setting performance against Miami and helped the Green & White earn its third victory in the first five weeks.
"We were just out there balling and making plays today," Hall said. "The coaches put us in a good position to execute and make really good plays for the team and that is what we did."
Week 4's Pepsi Zero Sugar Rookie of the Week, Hall outdid his performance against Pittsburgh setting career highs in rushing (97 yards on 18 carries) and receiving (100 yards on 2 catches). Hall's 197 scrimmage yards broke a franchise rookie record set in 1964 by Matt Snell with 188 yards against the Houston Oilers.
"He was awesome. He's an explosive player," HC Robert Saleh said. "When he drafted him, we said we drafted him because we needed a home-run hitter on this team and he did that. He hit a couple of home runs today."
Hall hit his first 'home run' when the point total looked like a baseball score, 5-0, catching a 79-yard reception from QB Zach Wilson – the second-longest reception by an RB in franchise history. Hall ran a route up the sideline, caught an 18-yard pass and zagged 61 yards dragging defenders with him as he was tackled on the 1-yard line. Michael Carter finished the drive the next play to put the Jets up 12-0.
"When you put the plan forward, you hope it is going to look like that," Zach Wilson said. "And so, it was cool we had a look like that. They were in man there and I just think they kind of lost him. … You can see how fast he is once he gets into space and how explosive he is and how hard he is to bring down. I get excited when I see him with that much room."
Hall added: "Coach is always telling me to do the little things right and my natural ability will take over, and that stems back to college. And today, I just ran the right route, sold it to the linebacker, got behind him, caught the ball and let my natural ability take over."
Between the big plays, Hall was strung together chunk runs to push the Jets' offense into scoring range.
On the Jets' second-quarter touchdown drive, Hall had five carries for 33 yards leading to a Wilson rushing score. Late in the fourth, Hall ran a flat route and broke free for 21 yards down to the goal line. Hall had two touches that ended at the one-yard line, another that ended at the five-yard line and three others that took New York into the red zone.
"Man ugh," Hall said jokingly frustrated during his postgame presser. I just have to learn to fight for that extra yard."
He finally scored from five yards out after the strip sack by DL Carl Lawson that was recovered by DL Quinnen Williams. The score put the Jets up 33-17 and Hall breathed a sigh of relief as he finished off a dominant offensive performance.
"I got stopped at the one-yard line two times and was I just 'like oh my God,'" Hall said. "But the coaches they said 'we're going to get you the ball and we are going to you a touchdown. And I had already had it in my mind that I was not going to get stopped at the one again. So, it was really good."