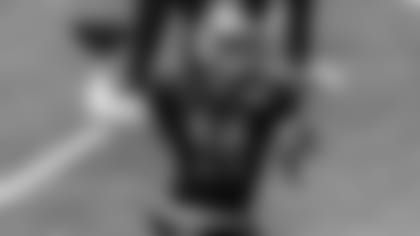 Jets quarterback Sam Darnold practiced Wednesday on a limited basis for the first time since straining his right foot against the Dolphins in Week 9.
"It feels really good," Darnold said. "It felt really good today. I got some action, so I'm just going to continue to do what I can to get better and go from there."
The rookie said his foot was a little sore after practice but "nothing crazy." The USC product did take some snaps in team periods but doesn't know if he'll increase his workload practice Thursday. Darnold will assess how his foot feels in the morning but is optimistic for practice and gameday.
"I'm hopeful," he said regarding potentially starting against the Titans Sunday. "But at the same time, just seeing how I feel every single day, assess it after every practice and go from there."
Even if the No. 3 overall pick practices on a limited basis for the rest of the week, he feels he'd be able to execute on the field in Week 13 as long as he watches film.
"That'll be key," Darnold said. "Just understanding what they're doing if I get a shot to go out there on Sunday. I think that'll be the biggest thing, just continuing when Josh (McCown) or Davis (Webb) is in there, continuing to get the mental reps that I need. Other than that, watching tape on these guys."
While Darnold was a practice bystander for the last two weeks, he maintained his conditioning and enjoyed being able to observe how 41-year-old gunslinger Josh McCown operates.
"Every time Josh goes in there to play, I learn something from him," he said. "He's been doing it for a long time. I understand sometimes things might seem a little fast to me when I'm in there and then when Josh is in there, he's making quicker decisions. I think just learning from him and watching him go about studying throughout the week and how he practices is what I learned the most."
Head coach Todd Bowles said time will tell whether or not the break will benefit Darnold on the field, but if the 6'3", 225-pounder starts Sunday, he'll have a tough test against the Titans, who only allow an average of 230 net passing yards per game, which ranks eighth in the NFL.
"They're a great team," Darnold said. "Very sound and they like to mix things up. Coach Vrabel loves to bring pressure, but at the same time, when he doesn't, they're super sound. They're really good in man coverage and their zone. It'll be fun. It'll be a fun test for us and I'm excited. Hopefully I get a chance to play on Sunday and I'm excited to go out there and play."