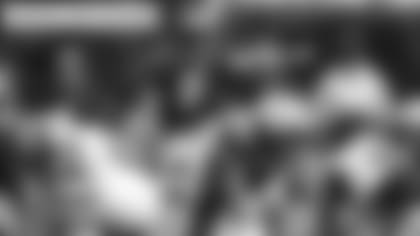 One week ago in Spartanburg, SC, the Jets first-unit offensive line struggled during a joint practice with the Carolina Panthers at Wofford College. Fast forward a week to the Jets-Bucs joint session Wednesday in Florham Park, NJ and QB Aaron Rodgers saw some improvement.
"I thought we played a lot better today up front today," he told a reporter when asked about the pressure he faced.
The line looked much different today as LG Laken Tomlinson (leg) and RG Alijah Vera-Tucker (ankle) joined Duane Brown (PUP) as non-participants. A day after rookie Joe Tippmann took first-team center reps, the Wisconsin product lined up at LG next to Connor McGovern. Wes Schweitzer continues to work in AVT's spot at RG, so mixing and matching on the interior has been added to the flopping of tackles Max Mitchell and Billy Turner.
"I was thinking maybe we'd start to figure some stuff out. Obviously, it hasn't happened yet," Rodgers said. "There are jobs up for grabs, so that's the beauty in camp but also the struggle. In talking with a couple of guys, we just need some continuity I think at some point so guys can feel comfortable playing together. Maybe that's the end of next week, maybe it's the week that we have in-between the season and the last preseason game, but jobs are up for grabs."
With the lineup juggling, Rodgers said there were some mental mistakes today before adding the Jets were up for the physical challenge from the Bucs front that features NT Vita Vea, RDE Logan Hall and LB Shaquil Barrett.
"We missed some real easy, easy stuff in the protection, which is stuff we got to clean up, but I think we battled better," Rodgers said. "Now there was testy moments, but we didn't back down. Our guys were protecting each other and sticking up for each other — I thought that was good."
The offensive line shuffle will continue Thursday as Robert Saleh told reporters that Mekhi Becton would get some work at RT with the first team. The regular-season schedule could help the Jets early in terms of the club playing four of its first six at home.
"We have to get to a level of communication in practice where we can get in a game situation and guys have the unspoken communication next to each other," Rodgers said. "Some of that stuff, if you play next to a guy forever, obviously, you don't need to say a whole lot most of the time, but we don't have that luxury. So, we got to get all the communication dialed in now because there's going to be some tough environments that we play in throughout the season where you are not going to be able to have the ability to hear everybody so they're going to have to understand playing next to each other. We have been moving tackles side-to-side, maybe some of that will start to level out a little bit. Just because we need our guys to play next to each other, obviously look at today."
Rodgers said that his level of concern for the offensive line is "pretty low" and he's trying to be consistent holding his linemen accountable with calls and adjustments. There is time before the season kicks off, but next Monday will signal three weeks out before the Jets-Bills battle concludes Kickoff Weekend.
"It's August 16, so, we got some time," Rodgers said. "Also, it's coming up. So again, I don't get concerned heavily about things that I don't have a huge role in yet. Now that might change at some point. I might say, 'Hey, I need the five who are going to be in there, to be in there with me for a solid week.' But I don't think we're at that point yet because I don't think there are five guys that have earned those spots. And also AVT hasn't practiced, Laken missed today, DB's not back yet so, I'm going to have some patience with that. And also trying to encourage and inspire those guys who are fighting for jobs to keep showing up every day because every day somebody notches up, somebody goes down, and that's the beauty in training camp and position battles."
See the best photos of the Jets during Wednesday's joint practice with the Tampa Bay Buccaneers.