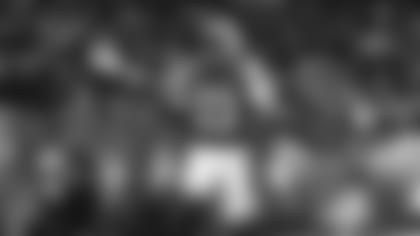 The Jets will have three representatives for the Pro Bowl in Orlando with safety Jamal Adams, kicker Jason Myers and returner Andre Roberts. All three players addressed the media today about their invitations.
"I'm proud of all three of them," head coach Todd Bowles said. "Anytime your peers vote you in something, obviously you feel proud. The guys in the league honor you because you're playing hard and they recognize your work. So, all three of them, very proud of them."
Jamal Adams
Adams said the first person he spoke to was his father, George, who played in the NFL from 1985-1991 for the Giants and Patriots.
"It's very special," Jamal said. "His career was cut short due to injury and I honestly felt like being drafted by the Jets was my calling to come here where he left off and pick up from there. He always wanted to make the Pro Bowl and do great things, but it didn't happen that way.
"I did it for my family, myself and for this team. I'm excited for it, but I'm also excited to have two teammates like Jason and Dre go down there and do the same thing I'm doing."
The 2017 No. 6 overall pick said he shed some tears after speaking with his father on the phone and referred to his nomination as "an honor" and "a dream come true." However, the Pro Bowl is just the first step for Adams, who vowed last year he'd never miss one after his rookie season.
"I have two more things on my personal goal list that I'm still chasing," he said. "I'm not sharing, but I have three of them and they're in the range of happening here pretty soon. That's what I'm shooting for. I'm always pushing myself to a limit that no one can see myself going. I'm always holding myself to a higher standard and that's just how I compete with myself if I'm not competing with anybody else."
Jason Myers
Bowles called Myers to deliver the news that the fourth-year veteran will be the first kicker to represent the Jets in the Pro Bowl.
"It's a big honor," Myers said. "It's a great organization that's been around for awhile. I'm honored. To go to the Pro Bowl as the first Jet, it means that much more to me. It's tough to kick up here, but I'm very thankful for the Jets taking a chance on me midway through camp and sticking with me. It's a true honor for me."
The Marist product joined the Green & White on Aug. 21 after losing the job in Seattle to Sebastian Janikowski. Fast-forward four months, Myers has put together a career year and set multiple franchise records as well as an NFL-season-record five kicks from 55 yards or more.
"It's awesome," said Myers, who credited his teammates. "There's a ton of great kickers out there all across the league. To earn something like that from the players and coaches around the league that you're playing every week, it's a great honor."
Andre Roberts
Roberts, one of the league's best return specialists in 2018, started his media availability with a bit of sarcasm.
"It feels so bad. It's a rough life," he joked before expressing his true emotions. "It feels real good. It's my ninth year and fifth team. It's an honor."
Roberts has had return success in his first eight seasons, but he credited his career year in both kick and punt returns to his supporting cast.
"The guys around me did a great job of blocking this year," he said. "You see some of the returns, I'm untouched to the 20- or 30-yard line. The guys stayed together, worked hard, fortunately stayed fairly healthy, so we built some chemistry and I think that was the most important part."