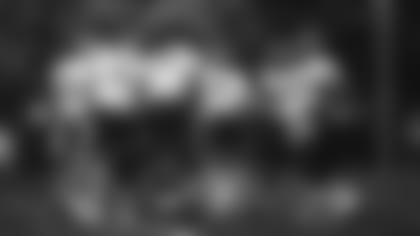 The Jets moved to another phase of training camp today, participating in a non-padded practice that included team drills for the first time since last December. They shook off some rust collectively while a trio of newcomers — RB Frank Gore, the NFL's third all-time leading rusher, rookie WR Denzel Mims, a Baylor product selected in the second round of the draft, and Pierre Desir, who had 11 pass defenses and 3 interceptions last season in Indianapolis, didn't participate due to hamstring ailments.
While head coach Adam Gase labeled Gore's absence from drills as precautionary, Mims might be out a longer period of time.
"We were just running routes on air and he took a weird step and really stretched himself out," Gase said of the wideout's injury that occurred earlier this week. "He felt something and we'll see how long it takes."
Mims is expected to challenge for a starting spot on the outside. The 6'3", 207-pounder, who had 11 career 100-yard receiving games and is only the third Bear in program history with multiple 1,000+ yards receiving seasons (2017 & '19), posted a 4.38 time in the 40-yard dash at the NFL Combine and then excelled in front of scouts at the Senior Bowl.
"He's a very big dude, big receiver, very fast as well and explosive. He can get in and out of cuts," said QB Sam Darnold of Mims this week. "So whenever you have a big dude who can get in and out of cuts and he's fast like that, it's rare. And for him, he's just got to make sure he's taking it one day at a time, because I'm sure he's thinking about and visualizing going out there on Sundays and making huge plays for us which is great. But at the same time, you've got to make sure that every now and then you get him to focus on each day at a time and make sure that each route is crisp, and he's running every single route and focusing every single day to the best of his ability."
In the short-term, Mims will have to focus on his rehab and continue to work diligently in the classroom.
"We can help him improve, but at the end of the day when you're playing that spot, it's all about the chemistry you have with the quarterback and we're missing time," Gase said. "He's been here, he's trying to do everything right. He shows up early, he tries to make sure to do all the right things (and he's) taking care of his body. It's just a really weird step he took and got stretched out."
Gase liked the energy that was exhibited at practice but acknowledged his club has a "long way to go" and has to clean up the pre-snap penalties. But Connor McGovern, one of the seven new offensive linemen on the roster, liked how the team bounced back after a shaky beginning.
"That first team period, whether it was the ones, twos or threes, everybody had a little false start issue getting used to the cadence. But what I thought was really good was that second team period, there wasn't a single one," said McGovern. "It did kind of feel like an early spring practice, but the nice thing is if early if you're having false start penalties or whatever issue, it kind of goes that whole day. We were able to switch it after four plays, so I think everybody realizes the urgency we're under and the urgency we have to improve with and the pressure we're under to fix that little stuff. Once a game starts, that's not a little thing anymore. But I think we fixed it fast and it just shows how ready we are to knock the rust off and get ready for a game."
Injury Report
The following players did not practice: RB Kenneth Dixon (hip flexor), CB Pierre Desir (hamstring), RB Frank Gore (hamstring), DL Bronson Kaufusi (hamstring), WR Denzel Mims (hamstring) & DL Jabari Zuniga (quad)
"Every day we should be getting somebody back," Gase said of the group. "We'll see how it plays out with as far as how long guys will be out. Everybody reacts a little different when they're coming back from soft tissue injuries."