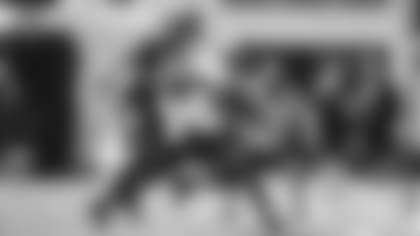 Two days out from the team's preseason opener against the Browns, the Jets had a spirited non-padded workout in Florham Park. There was extracurricular activity early in practice as LG Laken Tomlinson and LB Jamien Sherwood got into a scuffle. Sherwood was visibly upset and as LB coach Mike Rutenberg walked him away from the rest of the players, another minor scuffle broke out.
"The second part of it is not who we are, going back for more, the punch in the back of the head," HC Robert Saleh said. "The fights are going to happen, but the extra is where I'm looking for guys to pull it apart so we can get back to work. It's a learning experience for all of them to make sure that cool heads prevail, but the extra was unnecessary for sure."
Several of the camp skirmishes to date have involved players on both sides of the line of scrimmage.
"I like the demeanor of our O-line right now, they're just kind of fighting back," Saleh said. "Knock on wood, I think our D-line is pretty good and they're fighting back, and that's OK. You have to know when enough is enough."
Wilson to Start vs. Browns
Zach Wilson, who started 9 games last season, will start Thursday night against the Browns. Wilson has shown steady improvement throughout the offseason under the tutelage of OC Nathaniel Hackett and QB Aaron Rodgers, specifically with his timing, rhythm and confidence.
"He's been performing really well in practice, so just take it to the field and do the best you can," HC Robert Saleh said. "No expectations with stats or anything like that, but excited about the direction he's going. Excited for him to get back on the field again."
Wilson had a pair of impressive throws with zip Thursday, one over the middle to WR Alex Erickson with LB Chazz Surratt in good coverage and another to WR Malik Taylor by the sideline. The third-year pro was also the signal-caller for the catch of training camp, tossing a deep pass down the sideline that WR Jason Brownlee snatched out of the air with one hand. Brownlee landed hard on his elbow, but Saleh said the undrafted wideout seemed to be ok.
Rodgers said of Wilson: "I think he's done a great job, he's played really well in camp. He's made a number of great throws. He looks confident, his fundamentals, I think, are improving. He has all the other intangibles. He can run, he can throw on the move, he can throw no-look passes. This will be a good reset for him. I think he'll look back years from now and be really thankful for this time to grow, reset, take a breath and this is going to set him up for a nice, long career in the league."
Jetcetera
WR Garrett Wilson (ankle) is expected back for Saturday's practice after leaving Sunday's workout early. … WR Corey Davis (illness) returned to practice and was a participant in team periods. … Rapper/actor/producer Method Man attended practice and some of his music was played on the loudspeakers. … QB Aaron Rodgers found TEs C.J. Uzomah and Jeremy Ruckert each for a red-zone score. The pass to Ruckert was the final play of practice. It was redemption for Ruckert after the second-year TE dropped a would-be score earlier … LB Chazz Surratt had a would-be sack on QB Zach Wilson. … QB Tim Boyle dropped a deep pass to WR Jerome Kapp in the bucket down the right sideline.
See top photos from Tuesday's practice at Atlantic Health Jets Training Center.