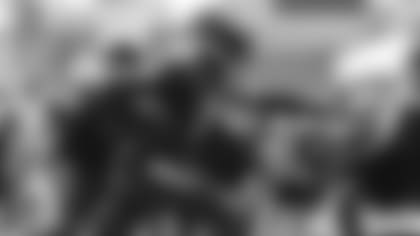 Jets HC Robert Saleh couldn't have scripted the end of practice any better, so he had to go off-script for one final play to decide a competition period. On that play which was snapped from the 10-yard line, Aaron Rodgers had Corey Davis open in the end zone and threw it in his direction. But Sauce Gardner, who received his degree from the University of Cincinnati on Friday, instinctively dropped off his man, intercepted the ball and decided to run it back 100+ yards.
While Rodgers and the offense had to do push-ups because they lost the period, Rodgers did his job earlier by moving the first unit into position for a Greg Zeurlein game-winning field goal. With less than a minute on the clock and the offense facing a 23-21 deficit, Rodgers converted a third-and-10 up the sideline to TE Tyler Conklin for 14 yards and followed that up with 11- and 9-yard gainers to Davis and Mecole Hardman respectively. Then Rodgers calmly spiked the ball and Z was true to form from 43 yards.
"You have to be very alert because he can get to anything he wants to," Hardman said of working with Rodgers in a two-minute situation. "There are so many plays he has with signals or whatever it may be – he can tell you what you need to do or however that goes. You just have to make sure you are on top of your toes. He can call anything, so make sure you line up correctly and then just go out there and make a play."
Zach Wilson followed Rodgers and promptly led the second unit down the field. His drive included one of Wilson's best throws this summer – a tight-window beauty to rookie WR Jason Brownlee. But with the offense in scoring range and only :03 seconds on the clock, an offensive lineman moved early and Saleh ordered a 10-second run-off.
"Really cool teachable moment," Saleh said. "The (first team) offense, they go down the field and score. The second unit gets into field goal range but on the move call, it was very subtle, but we had an offsides so 10-second run-off."
With the competition knotted, Saleh got the first units back on the field for one play. Rodgers is a maestro in the red zone but Gardner peeled off in coverage, hauled in the theft. It was a graduate-level read from Gardner even though he'd likely down the ball in the end zone in the regular season because the game ended with the pick.
"The competition was tied 1-1, take it to the red zone to settle it and then you get the pick," Saleh said. "So just a really cool teachable moment in it that it is never over until it's over. Guys are just competing where everything happens and from a coach's standpoint, I thought it was freaking awesome because you'd rather it happen now than later so you can talk about it. But all those sequences, especially at the end of practice when they're competing to not get on the ground and give 20 - it's pretty cool."
Tight Ends Get Busy
The tight ends had their busiest day of training camp as Conklin, C.J. Uzomah and Jeremy Ruckert were all frequently targeted from Rodgers.
Rodgers went to Uzomah on back-to-back short plays early in practice that looked like site-adjustments at the line of scrimmage.
"It's a little bit challenging at times to know what he's thinking," Uzomah said. "Even in the huddle today we have these different hand adjustments, signals and stuff. He's out there and says he's going to change it, so if it's this this time, it's going to mean this. And I'm out there like, 'Wait, what did he just say?' To me, that makes it fun. The defense can't key him, they don't know what our adjustments are going to be. I think that's why in part we kind of got after the defense a little bit today. They tried to pick up on some tendencies of his, but you can't. Fun day for the tight ends."
Going into practice, Uzomah said the tight ends thought their practice was going to be doing mostly "nitty gritty" things, but they were active in the passing game from the jump. Rodgers' first throw of practice went to Jeremy Ruckert by the sideline with S Jordan Whitehead in coverage. The second-year tight end made a sliding grab. Uzomah was involved in the short and intermediate game and then Conklin came up big on the sideline in the two-minute period.
"For me, the playbook is wide open with all of us, and we can all really exploit defenses," Uzomah said. "If they have that big personnel, we can spread out wide. If they try to go nickel to something, we can run the ball down their throat. I think we complement each other in that we all can do everything and we're kind of proving that in this camp."
Jetcetera
Both LG Laken Tomlinson and LB Quincy Williams exited practice and Robert Saleh said "all indications are it looks good. We're going to get more evaluation on them." … DE Jermaine Johnson exited, too, but Saleh said it was his decision to keep Johnson out. … Carl Lawson is dealing with back tightness and he was held out. … The Jets added a pair of linebackers – Nick Vigil and Sam Eguavoen -- before practice Sunday to help replenish the room. Maalik Hall and Hamsah Nasirildeen (both released) sustained injuries in Thursday's game that will take a few weeks to heal and LBs Chazz Surratt and Claudin Cherelus also are dealing with ailments. … CB Bryce Hall and QB Chris Streveler did not practice. … K Greg Zeurlein connected on all six of his field goals. … T.J. Luther and Justin Hardee got into a post-play scuffle. … Israel Abanikanda had a big gain on a screen.
See photos of the Jets back in pads at 1 Jets Drive during an open practice on Sunday.